Easily Cooked up on the Wolf + Grizzly Portable Grill
If you are a rookie at camping, we would suggest building a log cabin with your kindling before trying to light your campfire. It allows for extra burn time while placing the bigger logs for a fire with real staying power. Along with some well-placed tinder, using the Wolf + Grizzly Ferro Rod helps give consistent sparks to get the fire started in the first place.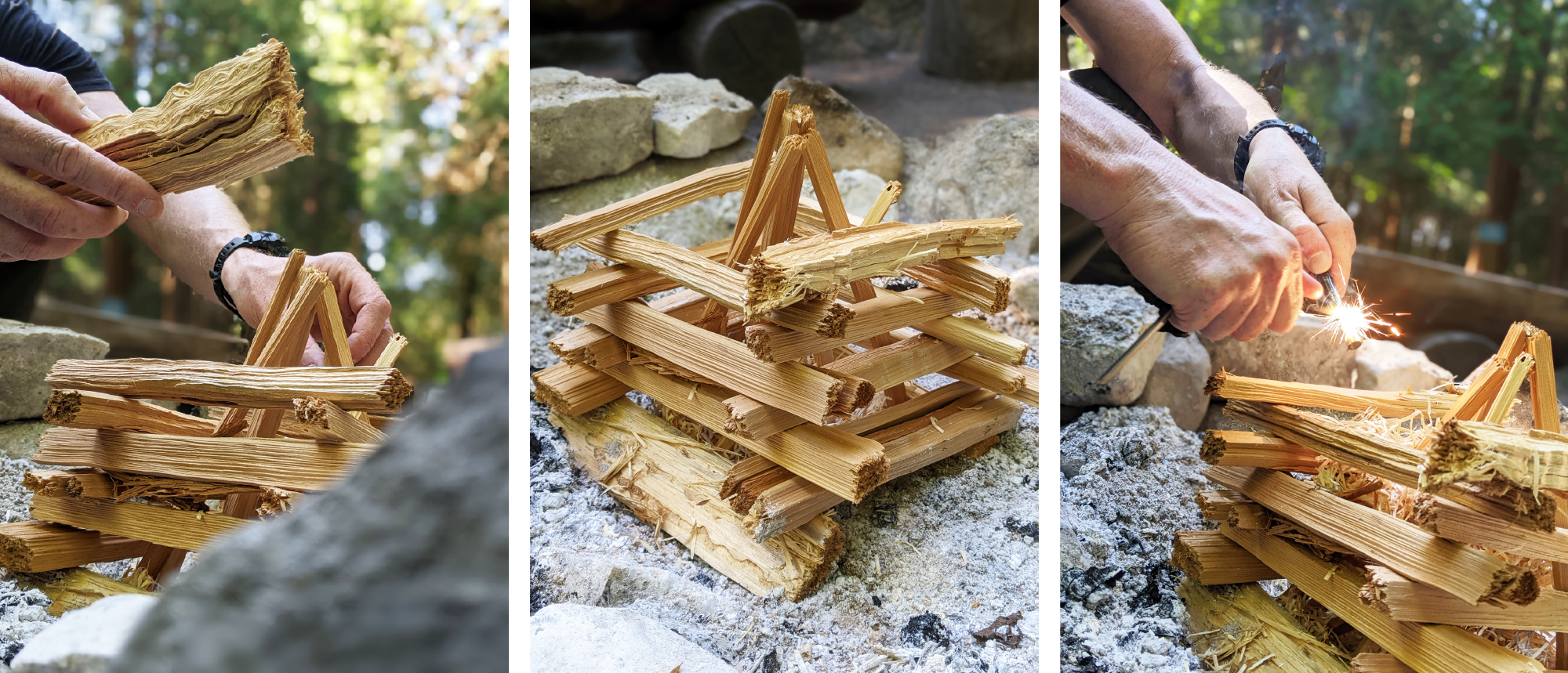 Depending on which campsite you snag, you may or may not have a grill on site, so carrying the portable grill from Wolf and Grizzly just makes sense. Along with the portable grill, the cast iron pan is the one splurge item that should never be left behind. 
Eggs in Purgatory or Shakshuka
No matter what you call this meal, it can be served for breakfast or dinner. Simple is best when you are at camp. This meal doesn't need much of a recipe, and you can simply add more of any of the ingredients if you have surprise guests at camp.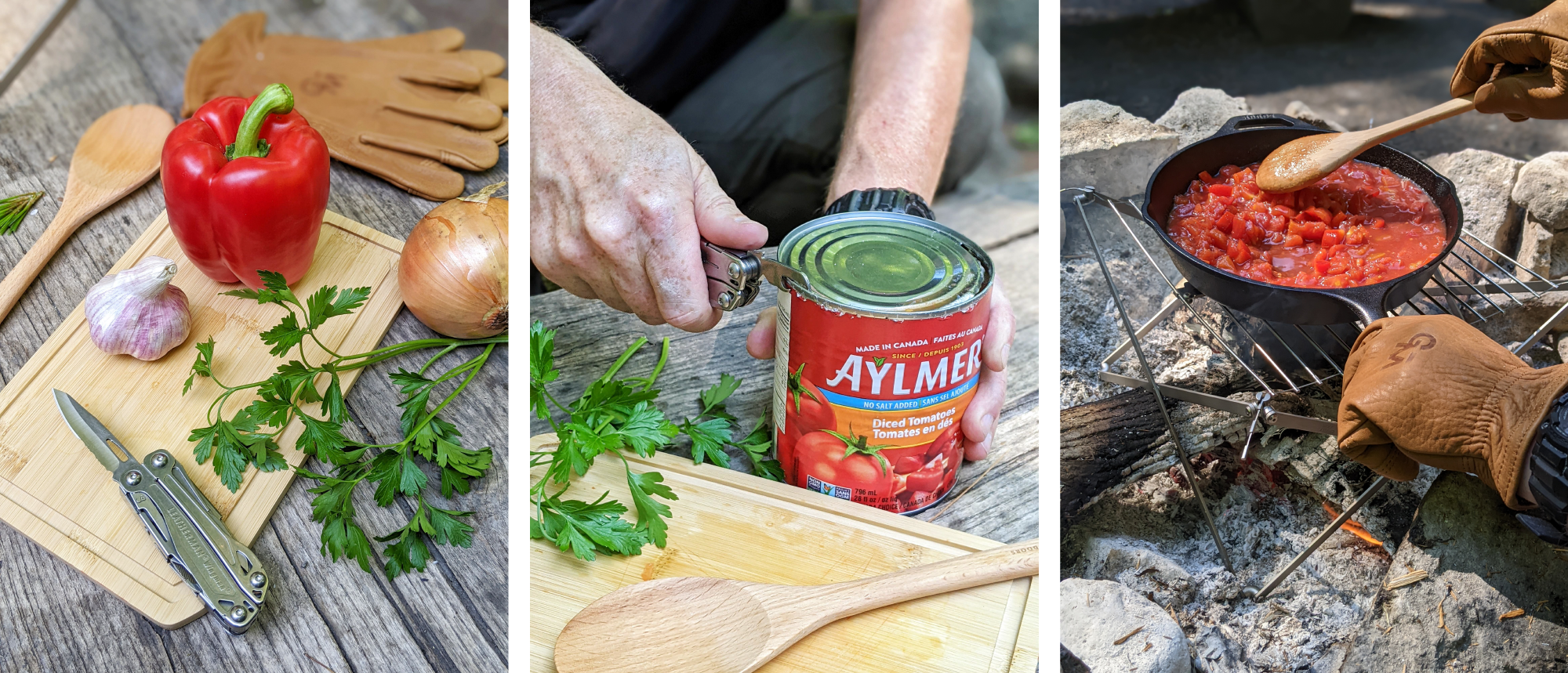 Throw red peppers and canned tomatoes into the pan plus add some cumin and paprika from the spice rack. Let that simmer for a few minutes until the peppers are soft and the tomatoes have broken down.
Then add in your eggs and cover with tinfoil. Poach until the desired hardness of eggs.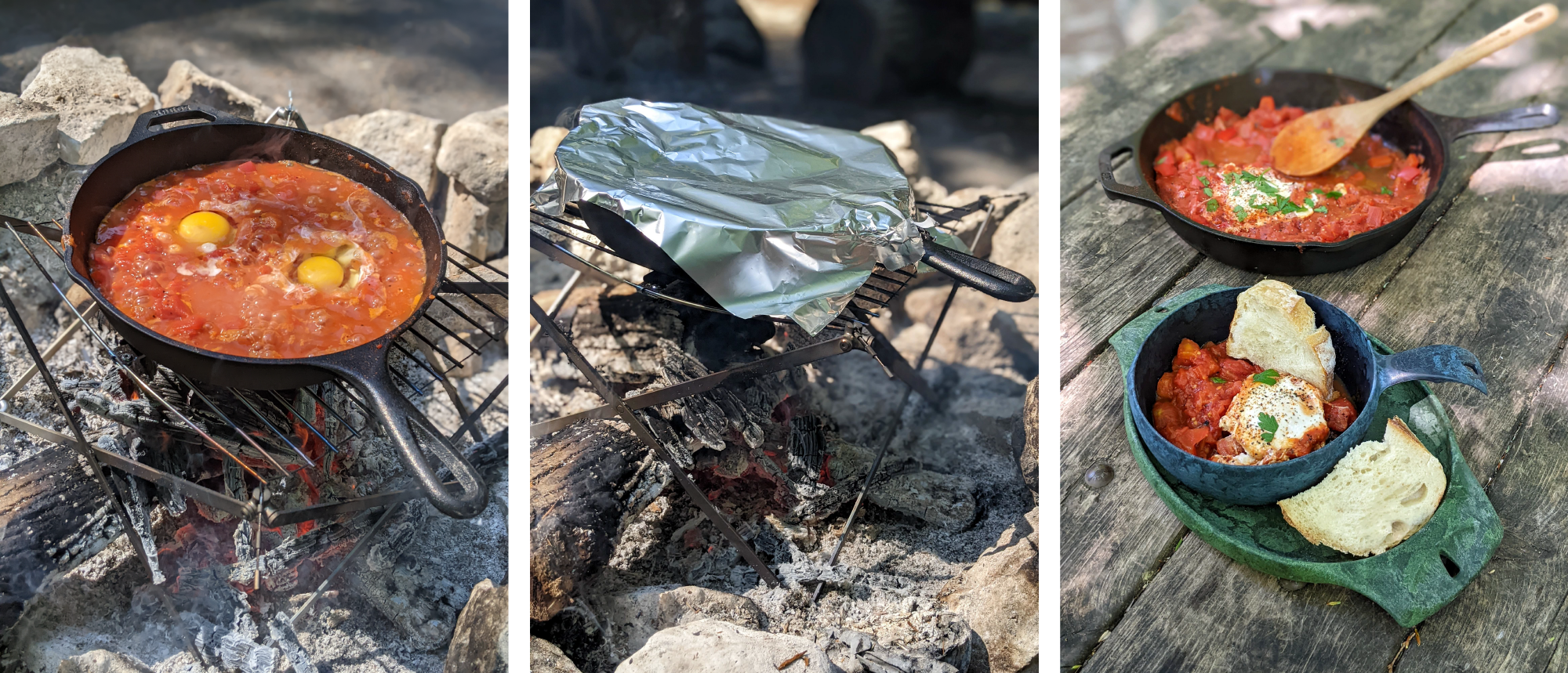 Don't do what we did and forget your cheese! Feta is the go-to but sadly it was still sitting at home in the fridge.  But, as any meal in the outdoors does, it tasted fantastic. Add some parsley and pepper suited to your own taste.  You don't even need to dirty the cutlery, just scoop it all up with crusty bread.
The perfect cast iron meal for the campfire.
Apple Crisp
Who says you can't have dessert while camping?
Apples don't need to be refrigerated so baking up an apple crisp while you have hot coals is a no brainer. You simply cannot ruin this dessert. Cut the apples into thin slices and they will soften up quickly over the campfire.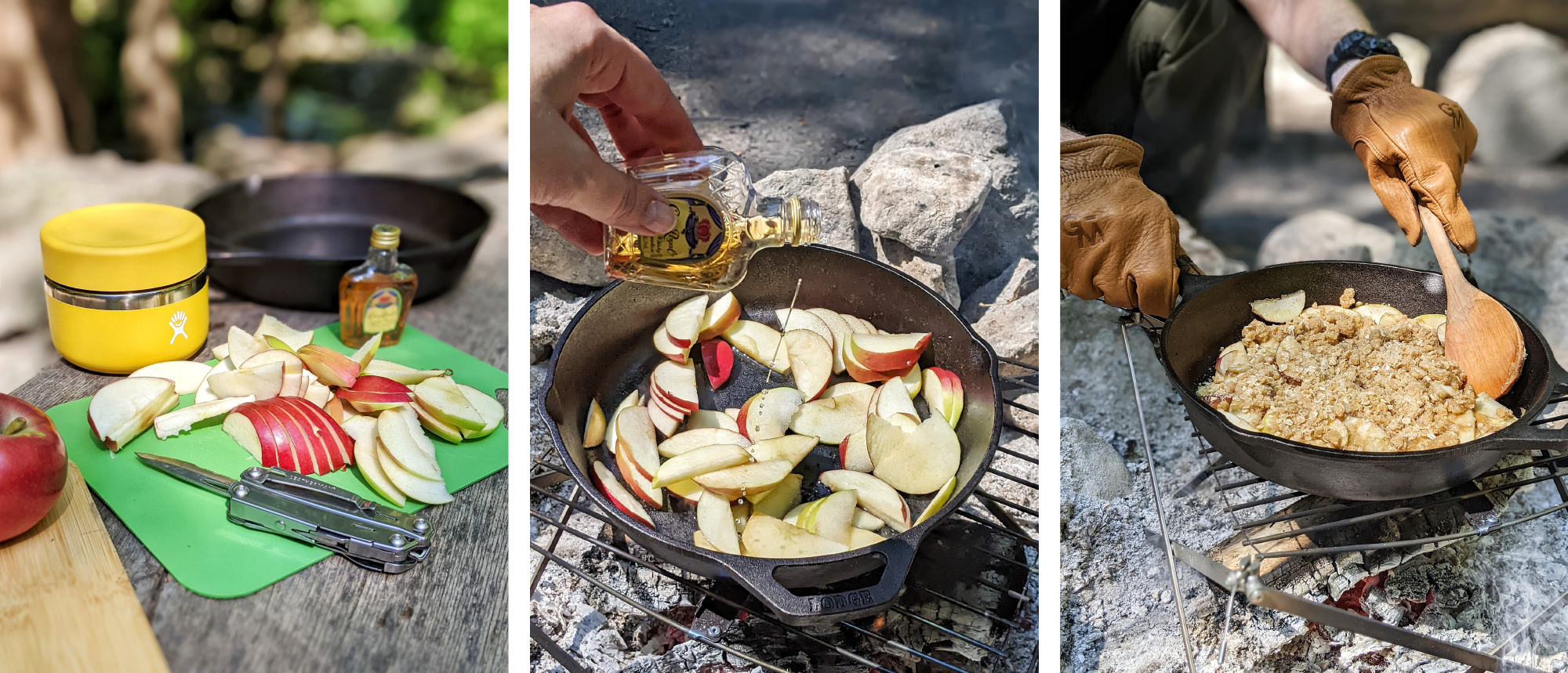 Instead of butter like you would use at home, add the secret ingredient of whisky. Usually a Woodford Reserve or a Forty Creek would be the bourbon of choice, but who wants to pack in a big bottle when the samplers that you get in your Christmas stocking work just as well.  The bourbon helps break down the apples, plus adds a nice flavour.
Notwithstanding the forgotten cheese for dinner, planning ahead with pre-mixed dry ingredients makes this one of the quickest desserts you can make over the campfire.
Breakfast for One
Using the full Wolf + Grizzly Cook System with the Cook Set means not having to pack any extra pots and pans. This kit packs up small into a nested package, and you will hardly notice it in your pack. 
The Fire Safe is easy to set up and the insert easily unfolds and gets placed inside. No set up instructions are needed. Clean up is just as easy. Wait until it cools down, lift the insert out and dump the cold coals into a fire safe bag for disposal.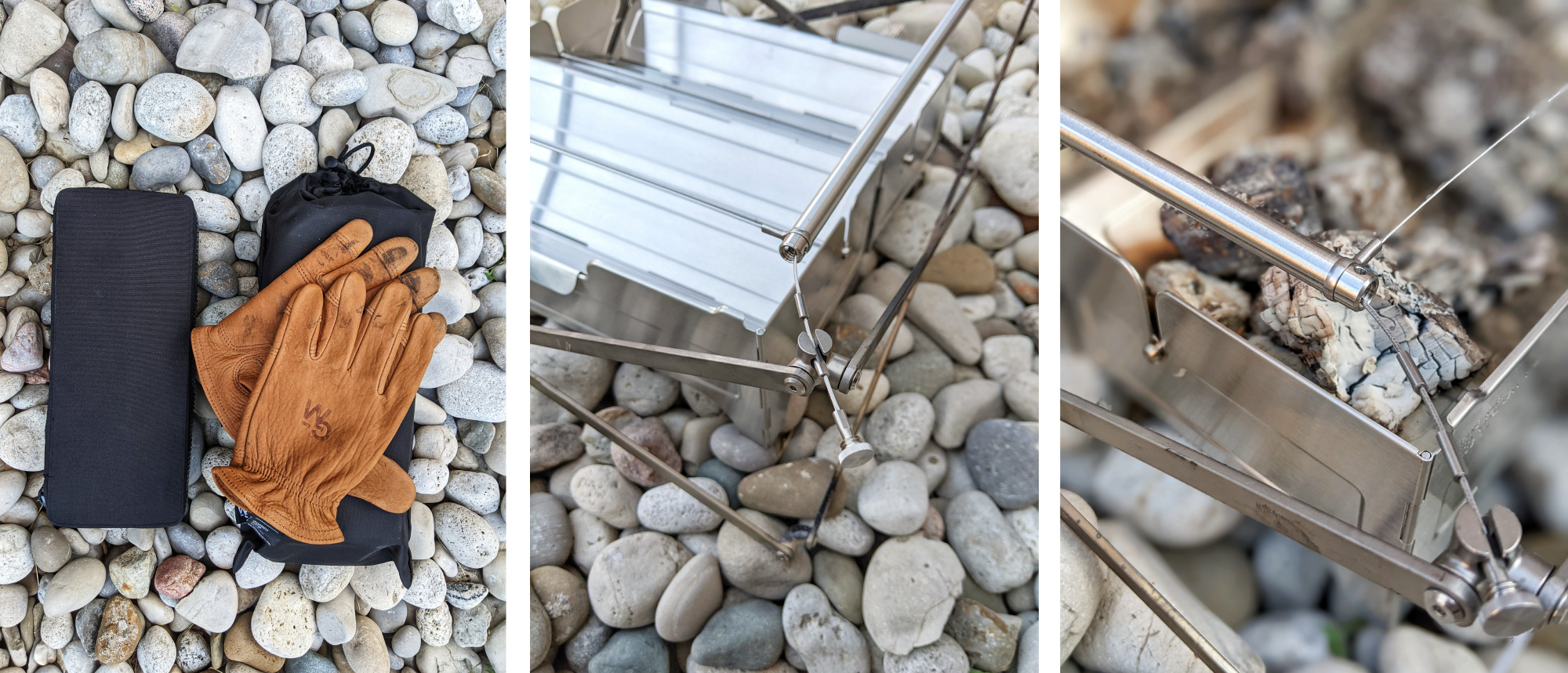 You do use more coals than you would expect to fill the fire safe pit. By using the notched rail system, you are able to move the grill frame down closer to the coals once you are done cooking with the pot. This brings the heat a little closer and you will hear the sizzling speed up.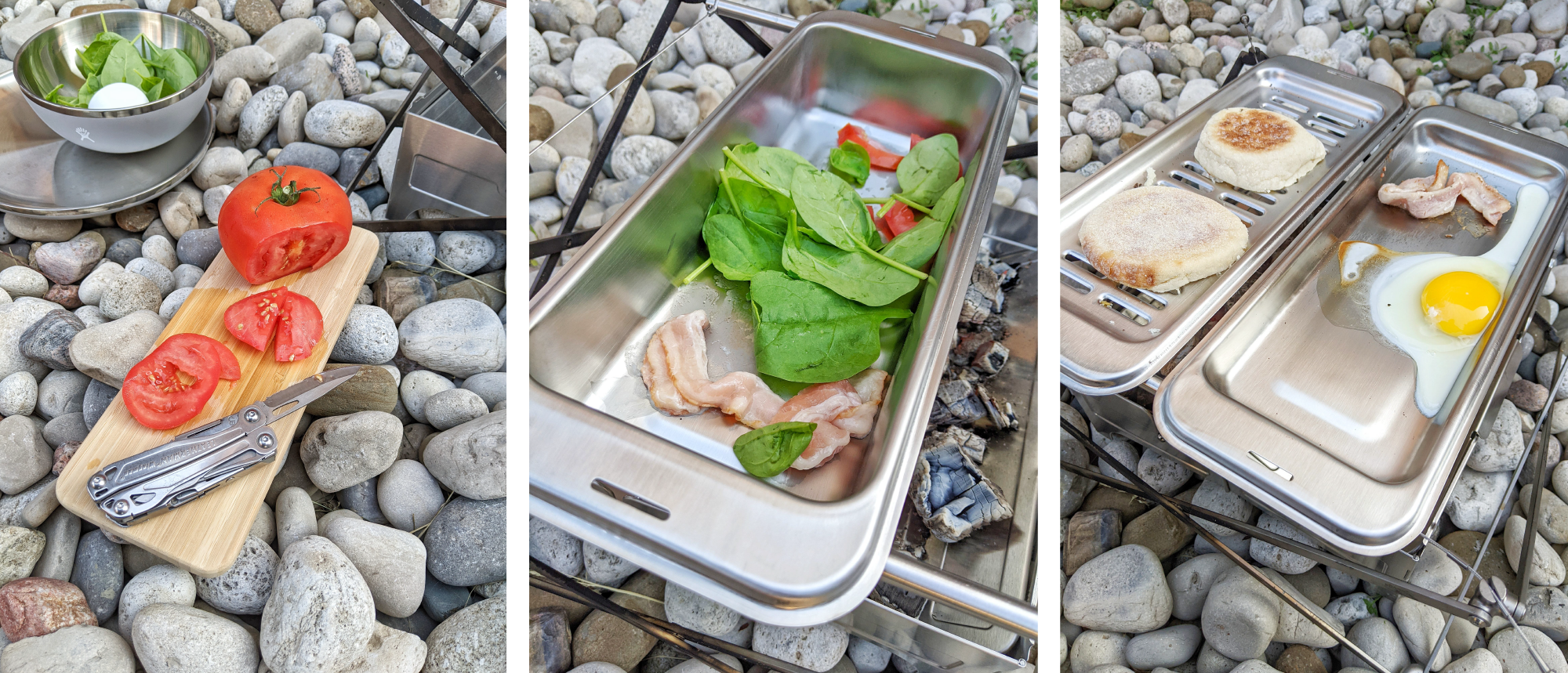 As far as ingredients needed for a breakfast sandwich, anything goes.  Bacon and eggs are staples but try combining some grilled tomatoes and spinach to add some colour and extra flavour.  Plus, adding cheese with bite such as Monterey Jack with habanero, adds that extra kick you need in the morning.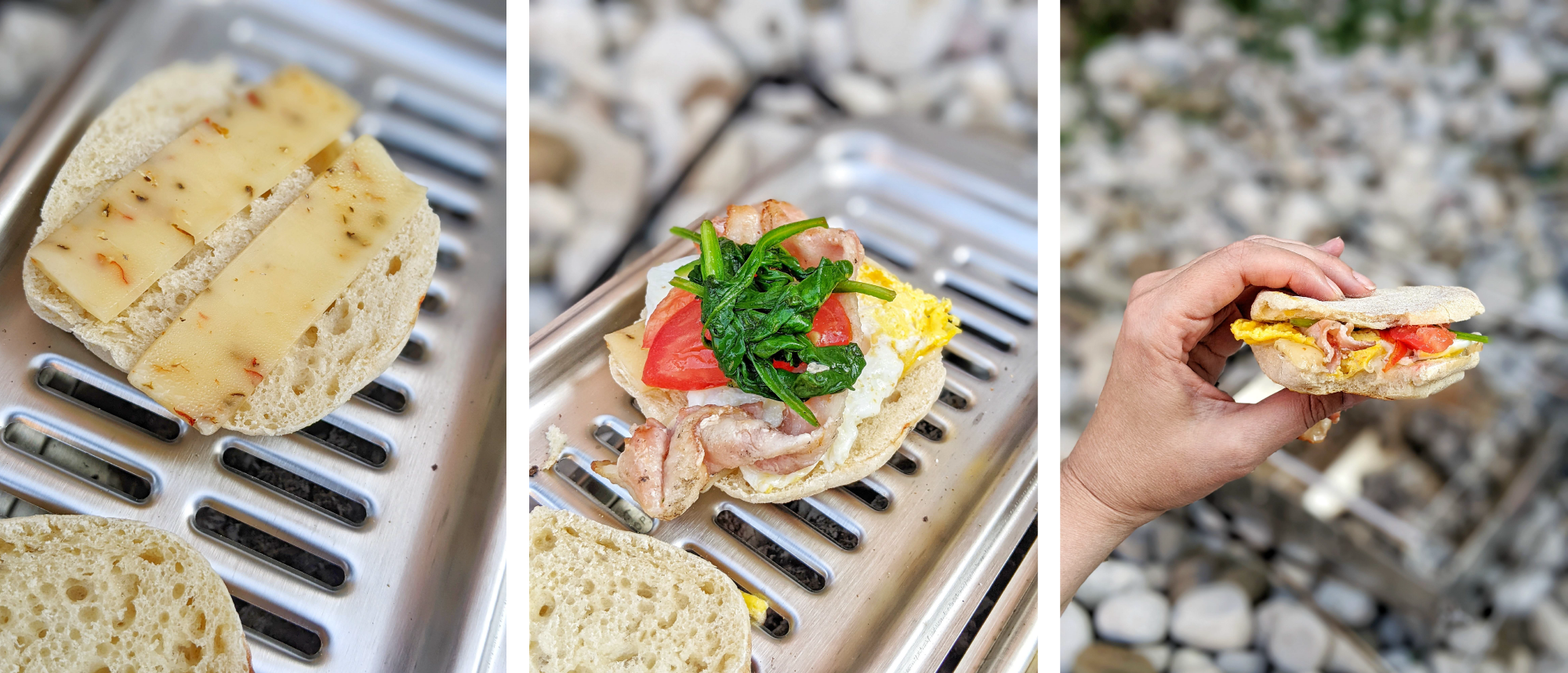 At the end of the day, no matter what you cook, it will always taste better in the outdoors!
Thanks to Wolf + Grizzly for giving us a full portable grill and cookset to test out and for enhancing our outdoor kitchen experience.