There are many factors to consider when purchasing a kayak, and we know it can be a bit overwhelming for beginners. This guide is designed to help figure out what kind of kayak is best suited for you. We've taken our top paddling questions from customers and have answered them all in this handy guide.
Where Do I Start? 
The first thing to figure out when purchasing a kayak is to decide what you're planning on using the kayak for. Generally, we group these into three types: recreational, touring and fishing. 
Recreational Kayaks are for everyone, and great for beginners. They're easy to get in and out of and are simple to turn with a paddle. They're stable, have a large, open cockpit, and extremely durable. Recreational kayaks are a little heavier and wider than other types of kayaks because they're made very thick to keep structural integrity. Recreational kayaks are best for lakes and lazy streams. Check out our Recreational Kayak selection here.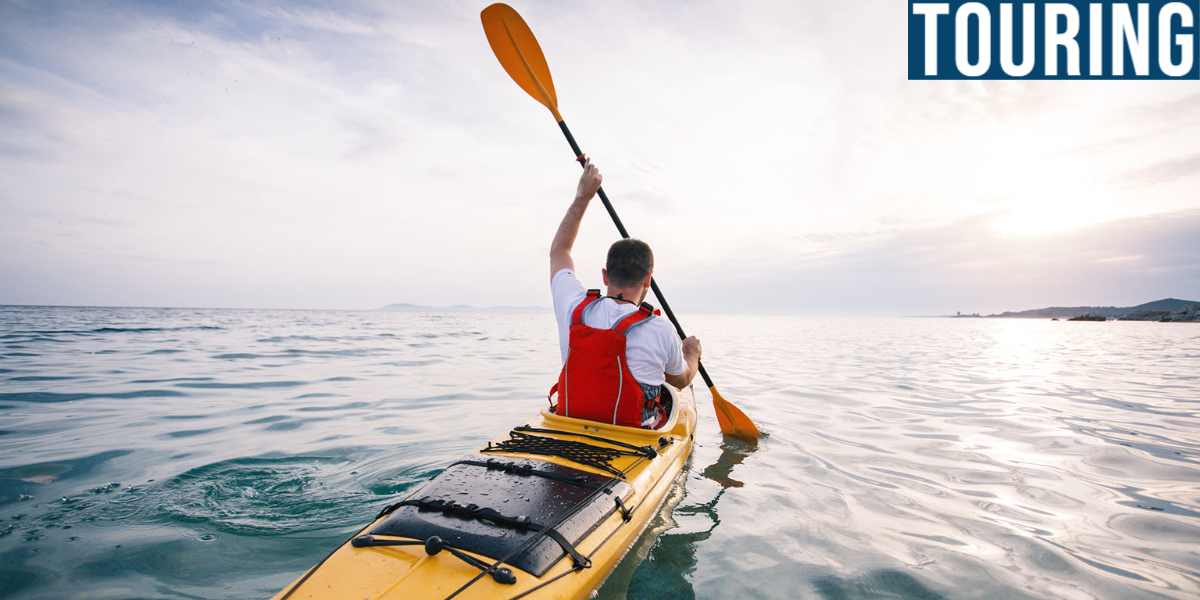 Touring Kayaks are for the serious paddler who wants to take their kayak out on extended adventures. Usually narrower, longer and length and lighter than a recreational kayak. They're harder to turn on a dime because of their length but they are fast and the ideal craft to take on choppy water. The main difference between a recreational and touring kayak is the hull design. The hull shape on a touring kayak is more pronounced, whereas a recreational kayak's hull is flatter. The narrower shape on a touring can make newer paddlers feel a bit "tippy". Touring kayaks generally have a rudder and/or a skeg to help with tracking and steering. Check out our Touring Kayak selection here.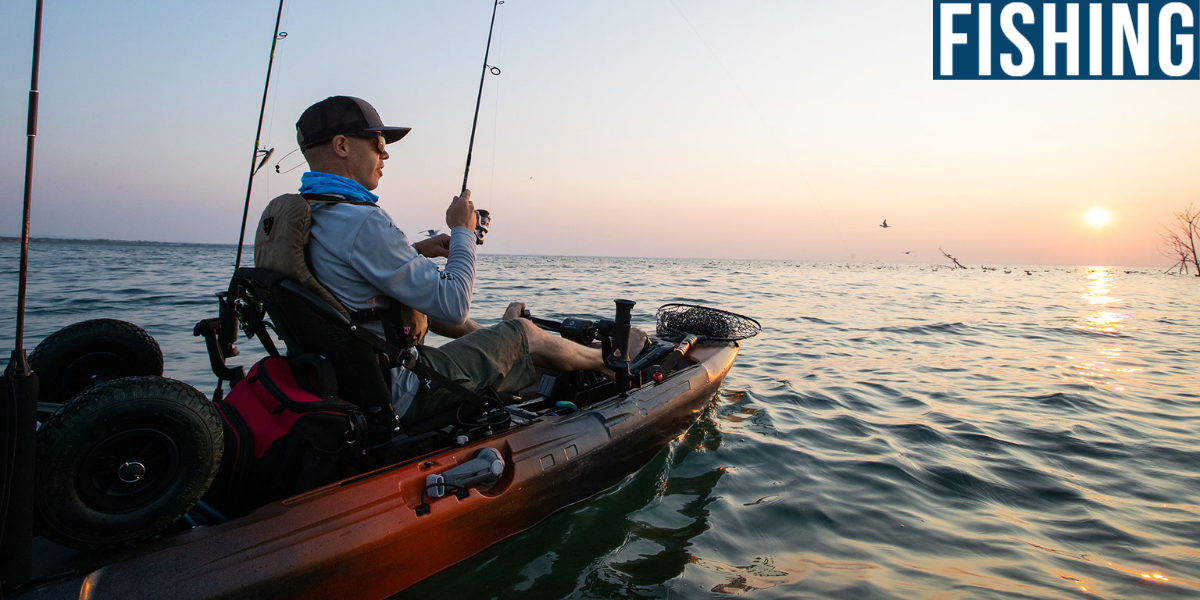 Fishing Kayaks - also known as Angling Kayaks - are wide, sit-on-top kayaks that allow for lots of room for gear. Essentially, fishing kayaks are similar to their recreational counterparts, but they come more equipped for the avid angler. When looking at fishing kayaks, you'll notice they come with features such as rod holders, fish finder mounts, tank wells, and some even have coolers. Check out our fishing and angler kayaks here. 
What's the difference between them?
Recreational and Fishing Kayaks are shorter, wider and have flatter hulls. They come in sit-in and sit-on-top models, and usually have lots of space for gear. They're great for a day on the lake, given the conditions are calm. They're a bit heavier and slower than touring kayaks, but they are better at turning. 
Touring Kayaks are for more experienced paddlers, who are looking to use their kayak on a trip or in big water. Touring kayaks have a rudder (a blade which deflects water in a specific direction, which steers/turns the boat) or a skeg (cuts down on wind resistance and ensures you track straight). They are narrower, longer and lighter than recreational and fishing kayaks. They are more difficult to master, but allow you to travel far and fast. 
Okay, I have picked out what type of kayak I'd like to get. What do I do now? 
Compare the features of each kayak type. Here's some common ones: 
Sit-In Versus Sit-On-Top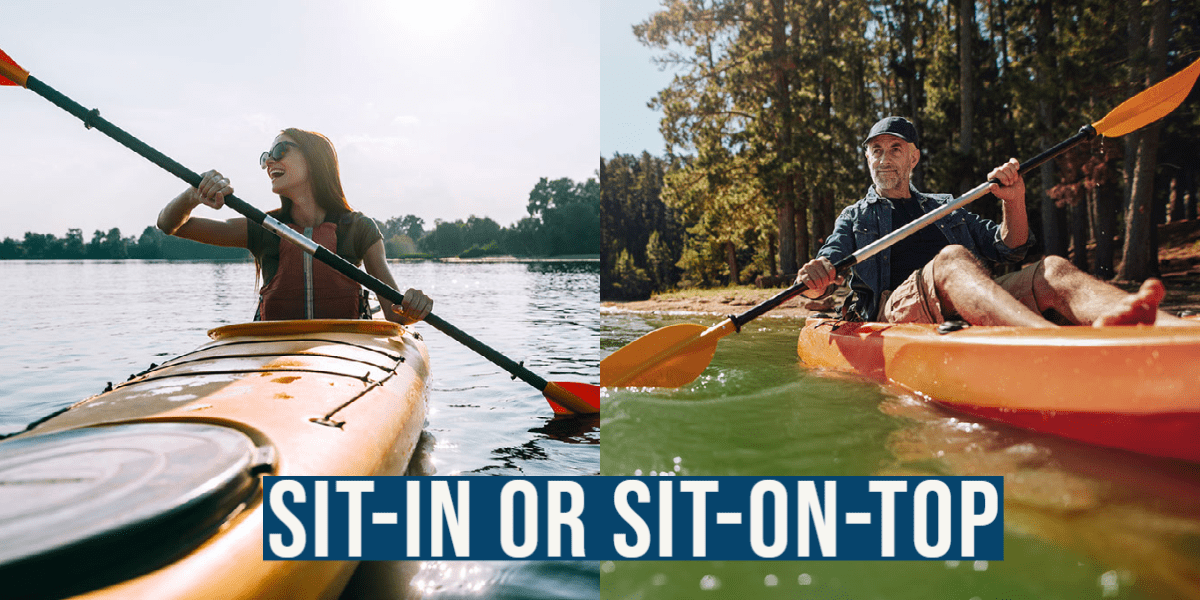 Sit-In Kayaks are recreational and touring kayaks. They usually have covered cargo compartments and can move pretty swiftly. They're good for paddling from point A to B, and you can feel more in control of the boat because your body is making more contact with it. They have a cockpit, which allows you to attach a spray skirt to keep the water out. Sit-in kayaks are better in rough water. They are also more comfortable in cooler temperatures because your legs are covered. If you capsize, you're staying wet. Sit-in kayaks also mean learning to perfect "The Wet Exit", as demonstrated by our friends at Paddling.com in the video below. 
Sit-On-Top Kayaks are recreational and fishing kayaks. They are great for lakes and slow-moving rivers. They're easy to get on and off, and usually have more storage space. Their stability, ease of use and lack of confinement make them a great pick for a beginner paddler. 
Paddle, Pedal or Motor?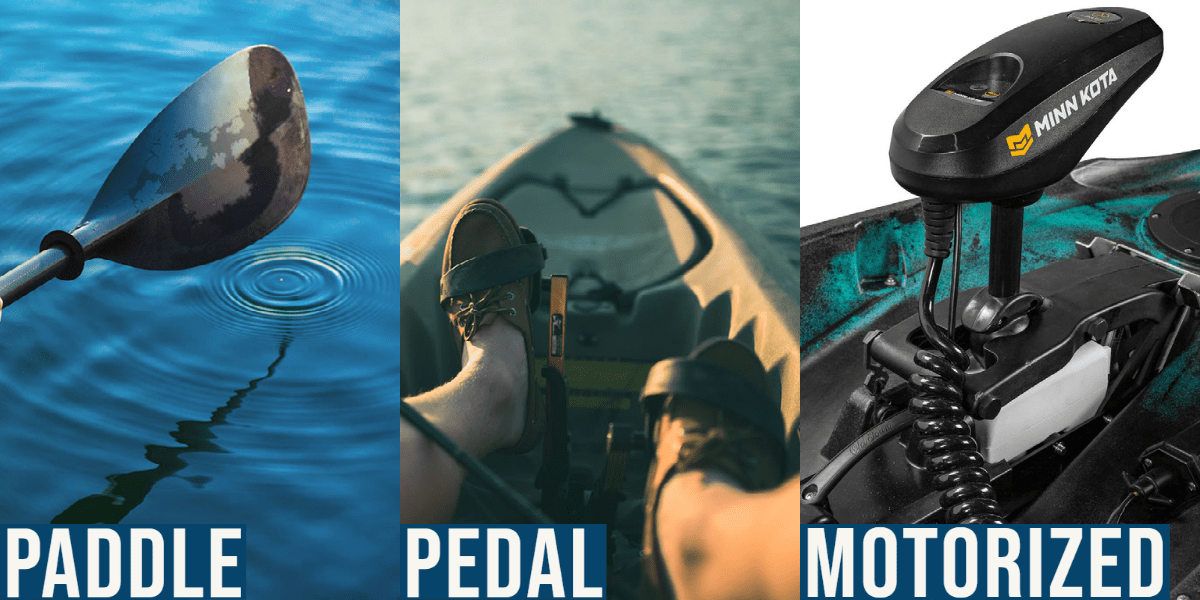 Paddling Kayaks are the most common type of kayak out there. Movement comes from your arms controlling the paddle. Paddle kayaks are generally the go-to kayak model. They're usually the cheapest of the three, and the simplest. We stock lots of different kayak paddles made from different materials based on your preferences. Because you are relying on your own arm strength, paddle kayaks are slower than pedal or motorized kayaks. They are also not as easy to control when in wind or in a current. 
Pedal Kayaks are perfect for fishing or for the multi-purpose paddler. If you're a photographer or a fisher, a pedal kayak means you can keep moving forward with your legs while keeping your hands free. The pedals control a pair of fins that sit below the bottom of the kayak. You steer using a rudder that is usually on the back or side of the boat. Pedal kayaks are always sit-on-top, so they're wider and easy to get in and out of. They're fast, efficient, and very stable. Propulsion systems are housed beneath the hull, so it can get difficult when navigating shallow waters or weedy areas. However, some pedal kayaks offer a retractable drive, which means you can pull it up into the kayak and out of tricky areas. 
Motorized Kayaks are great for kayak fishers who are looking to get to further spots faster than with a paddle or pedal kayak. Motorized kayaks are a great option for people who are unable to paddle or pedal, but still want to be out on open water. More fishers than ever are using motorized kayaks, because it allows you to save arm strength for casting. Motorized kayaks also have a higher weight capacity, allowing you to bring more gear on board without worrying about energy or efficiency.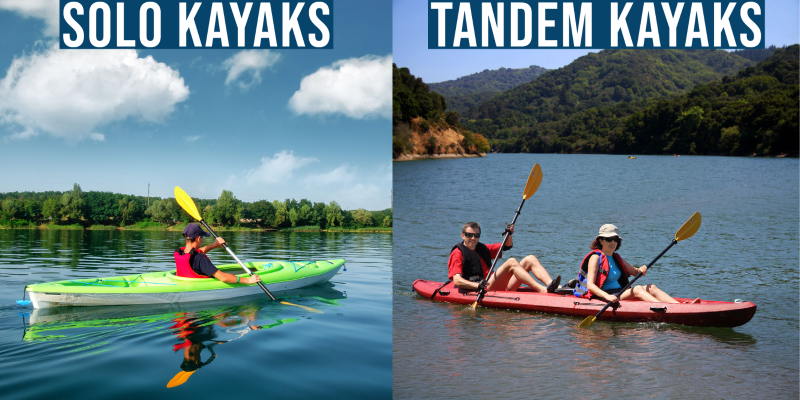 Solo Kayaks are great if you plan on kayaking by yourself with minimal gear. Some solo kayaks are made a bit larger and include hatches for dry gear storage, for longer trips. 
Tandem Kayaks are fun for two people. They come in sit-in or sit-on-top varieties. The sit-on-top tandem kayaks are much easier to get in and out of. We carry the Escape Duo Tandem Kayak, a sit-on-top bestseller made by Riot.
Still not sure what to get? Feel free to give us a call at the store, drop us a line on the live chat, or send us an email at [email protected]  
Keep Reading! Helpful Kayak resources: 
Sudbury Canoe Club - Sudbury's only volunteer-driven paddling association, with programs offered for beginners and experts alike. They have even offered a kayak polo class before.
Algoma Paddlers Canoe & Kayak Club - Offering kayak courses and paddling trips, this club is described as being "a group of canoe and kayak enthusiasts who get together and explore the waterways of Blind River, Elliot Lake, and the surrounding Algoma Region." 
North Bay Canoe Club - In addition to offering paddling courses, they also have their 2022 packed with regattas, events and even spring and summer camps for youth paddlers. 
Timmins Canoe and Kayak Routes - A great resource describing the routes in and around the Timmins area. 
Whitewater Ontario - The governing body of whitewater paddling in Ontario. For the extremely adventurous, beginner and experienced alike. Use this site to find resources, and check out their paddling map for prime whitewater kayaking spots. 
Ontario Recreational Canoeing and Kayaking Association - Also known as ORCKA, is the provincial not-for-profit responsible for the promotion of safe, competent, and knowledgeable recreational paddling. Their website has a plethora of resources and even has a program finder tool which helps narrow down what's available in your region. 
Kayak Ontario - A website with resources that provide training, instructor courses, tours, as well as a handy trip map for when you're planning your next paddling adventure.
Canoe Kayak Canada - Canoe Kayak Canada is a national organization that handles all competitive paddling in Canada. They also administer programs at the national level to enable Canadians to enjoy the sport of paddling and achieve success at the highest levels of competition.