Guest Blogger: Brodee Harte, Brand Rep for Arc'teryx and Hydro Flask
Ever since reading the biographies of Shackleton, Scott and Amundsen I've had a fascination with Antarctica.
This wild place at the end of the earth frozen in ice, populated by the brave few species who can survive its frigid waters and long polar nights followed by long summer days when the sun never truly sets.
Antarctica is littered with a history of failed expeditions, of men trying to reach the southern most pole and claim glory for Queen and country. Shipwrecks, and outpost dot the frozen landscape appearing as they did over 100 years ago and standing as a stark reminder of the raw power and solitude of this place.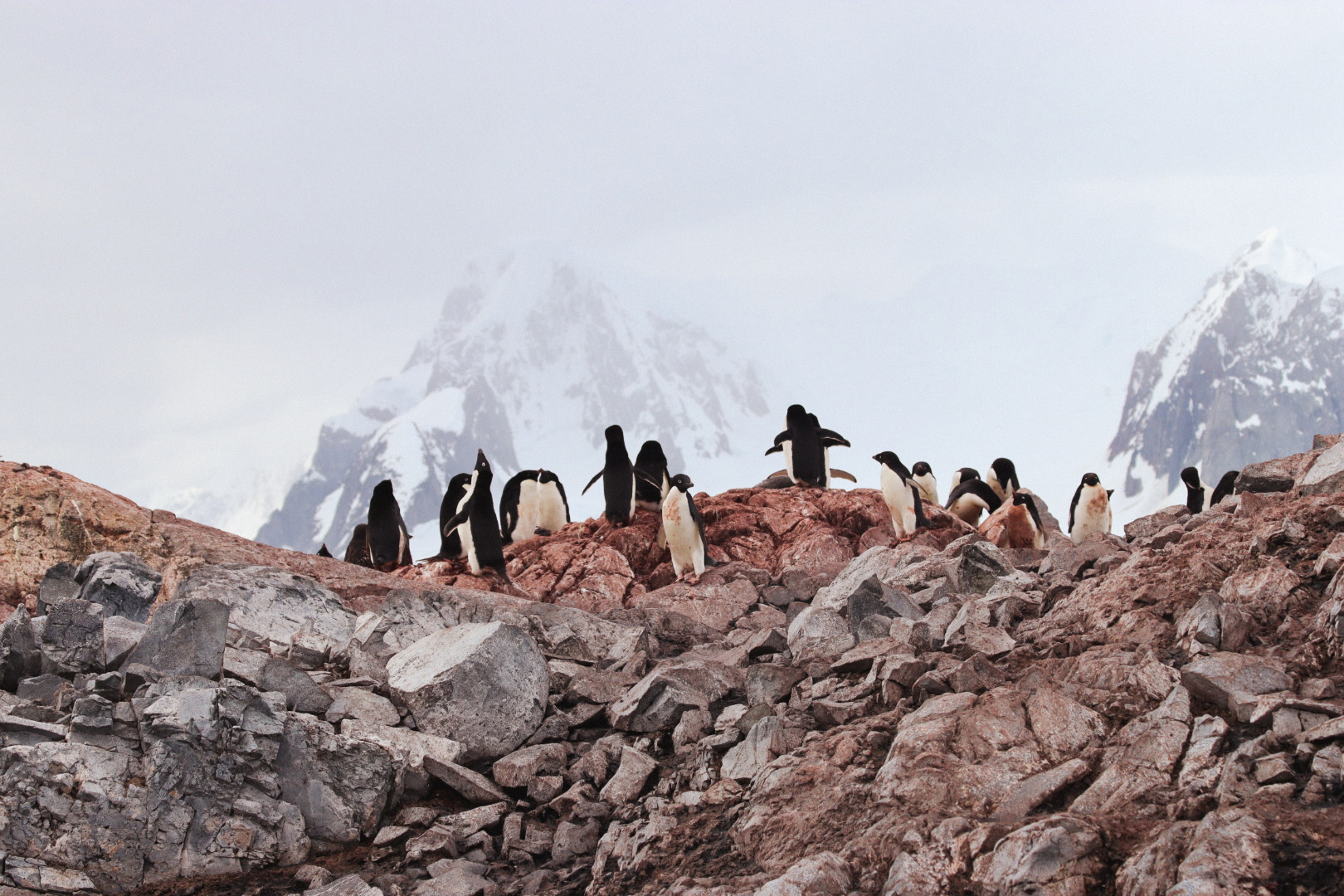 I've spent the last 20 years of my life (when not working) exploring from the wilds of Argentine Patagonia to the fjords of Scandinavia and many points between.  When the chance to head to this land that few people on the planet get to see arose, I felt the excitement of a boyhood dream coming true and knew immediately that we had to go.
Day ONE: Arrive in Ushuaia, Argentina
After flying from Toronto to Brazil to Buenos Aires and then on to Ushuaia, we boarded the Ultra Marine, the newest vessel from Quark Expeditions and our home for the next 11 days.
Quark Expeditions has been leading polar expeditions to Antarctica since 1991. Quark has one of the most professional operations in Antarctica and offer small intimate trips (we only had 136 people on our expedition) they were a natural choice for us when it came to exploring the 7th continent.
DAY TWO: Embark
After clearing the Beagle Channel out of Ushuaia, stopping to land by zodiac on Cape Horn and visit its light house and monument to the sailors who have died attempting to round the horn we set off into the infamous Drake Passage.

DAY THREE & FOUR: Crossing the Drake Passage
The Drake Passage is not for the faint of heart. It's the point on earth where the Pacific and Atlantic oceans collide. When it comes to crossing the Drake, you usually get one of two options. Either the Drake Lake (calm gentle seas) or the Drake Shake (exactly what it sounds like). For our trip heading down to Antarctica we got very lucky and had the Drake Lake. However, on our return we got the Drake Shake…. 30+ft seas, 95mph winds and if you're familiar with the Beaufort scale we hit an 11 out of 12.
Due to having the Drake Lake for our initial crossing, we made our journey to the Antarctic Peninsula in just 1.5 days.
DAY FIVE through EIGHT: South Shetland Islands & Antarctica Peninsula
On the morning of January 22nd, we had arrived in Hughes Bay located on the Antarctic peninsula! We awoke and peered excitedly out our window at icebergs that dwarfed our ship, a welcoming committee of Chinstrap Penguins swam past as they hunted for their breakfast of Krill and peered curiously at the new visitors.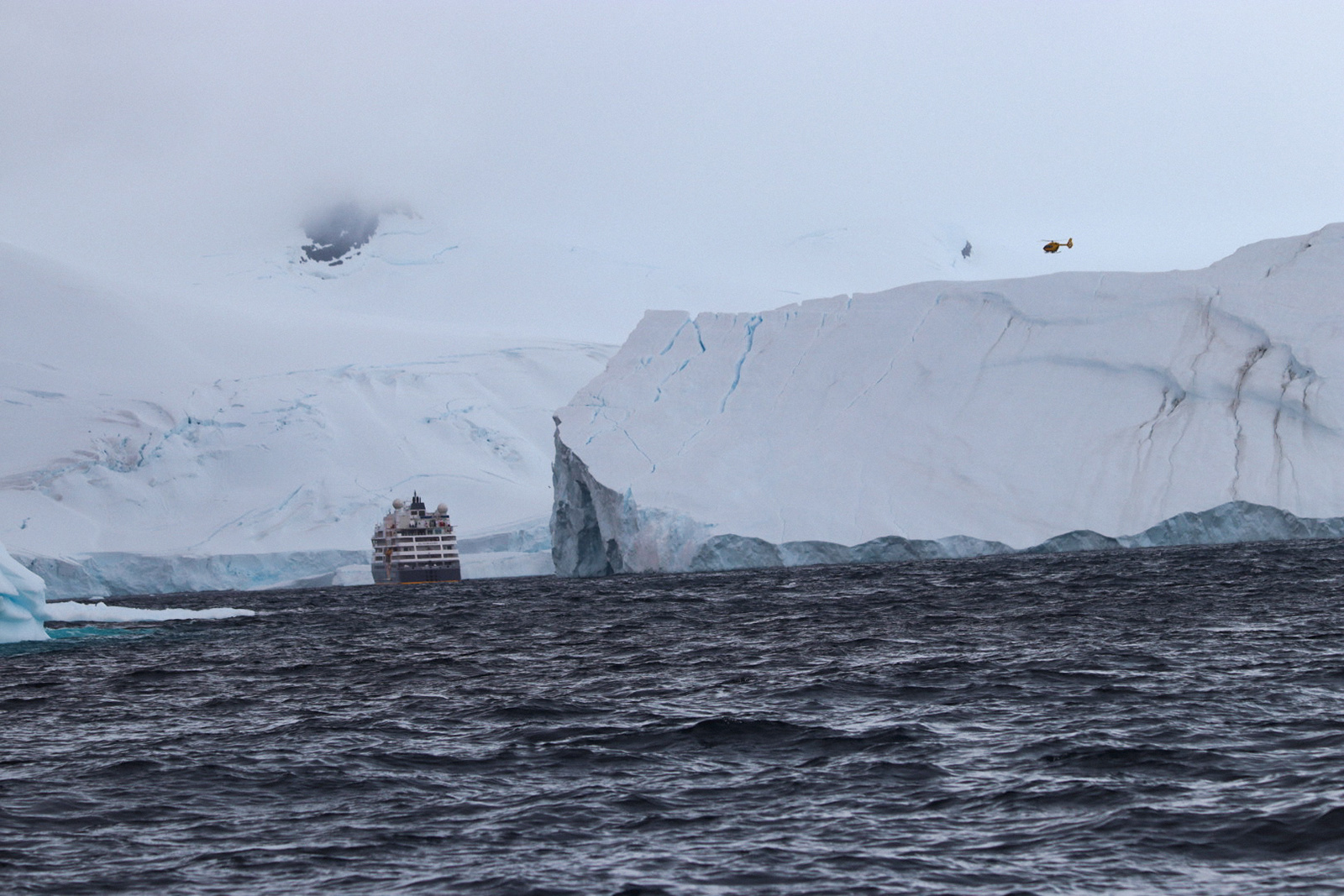 Our first day in Antarctica was spent exploring the bay. We spent our morning gently pushing through brash ice that had accumulated in the bay in our small zodiacs, following Humpback whales as they gently rose to breath and then resumed their search for Krill. We watched as Chinstrap Penguins hilariously waddled their way up and down tiny islands or tried to time the crashing surf and jump onto or off rocky outcrops.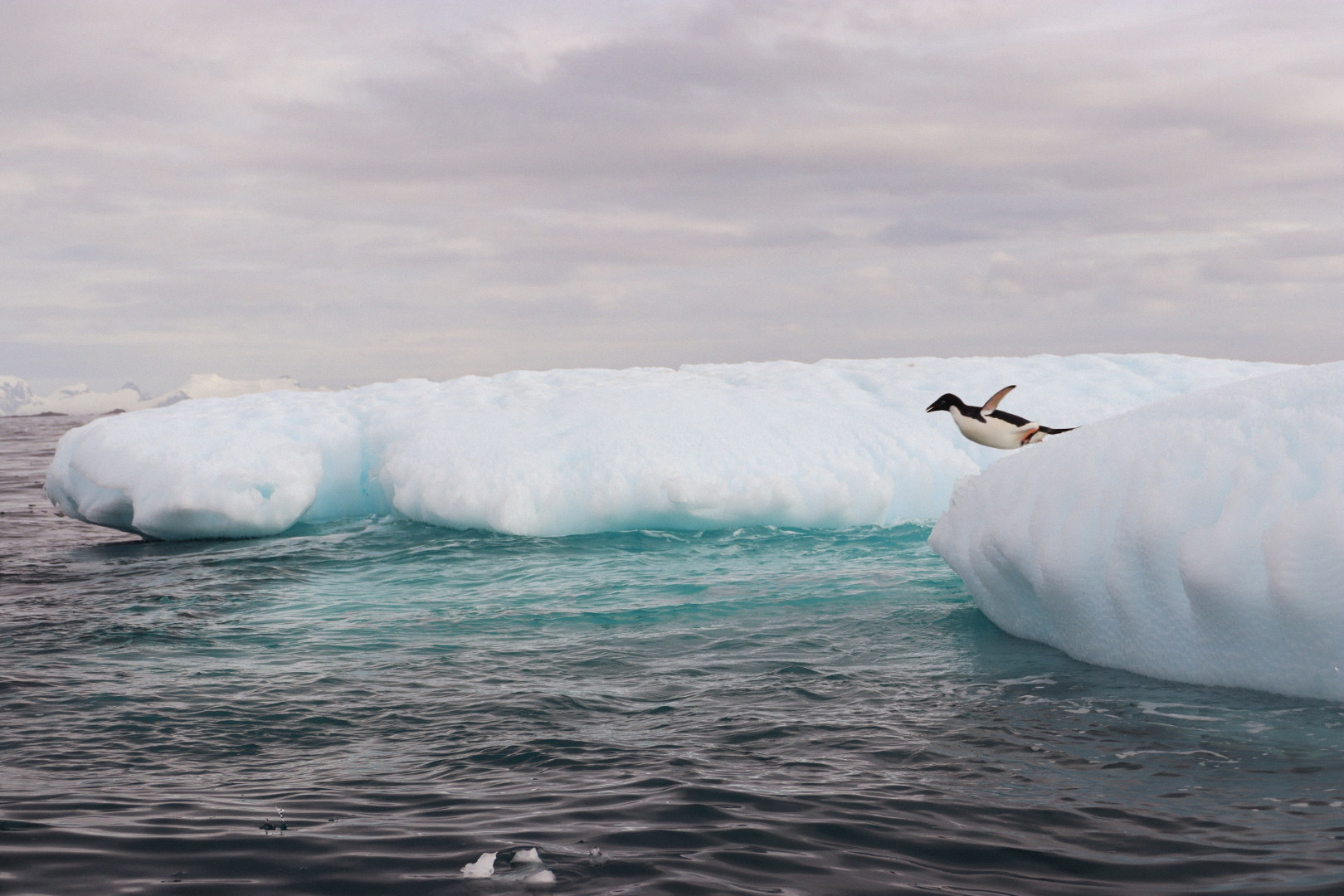 In the afternoon we took to the air (despite being only 400ft long Quark has a helicopter onboard their newest ship) flying over the towering glaciers at the end of the bay, containing ice that was up to 150,000 years old. Peering down into deep crevasses and then circling back out over the bay to spot Weddell seals lazily napping on smaller floating icebergs.
After our initial introduction to Antarctica by zodiac and helicopter, we decided it was time for an even more intimate experience with our surroundings and chose to continue all our future exploration from the Ultra Marine by Sea Kayak.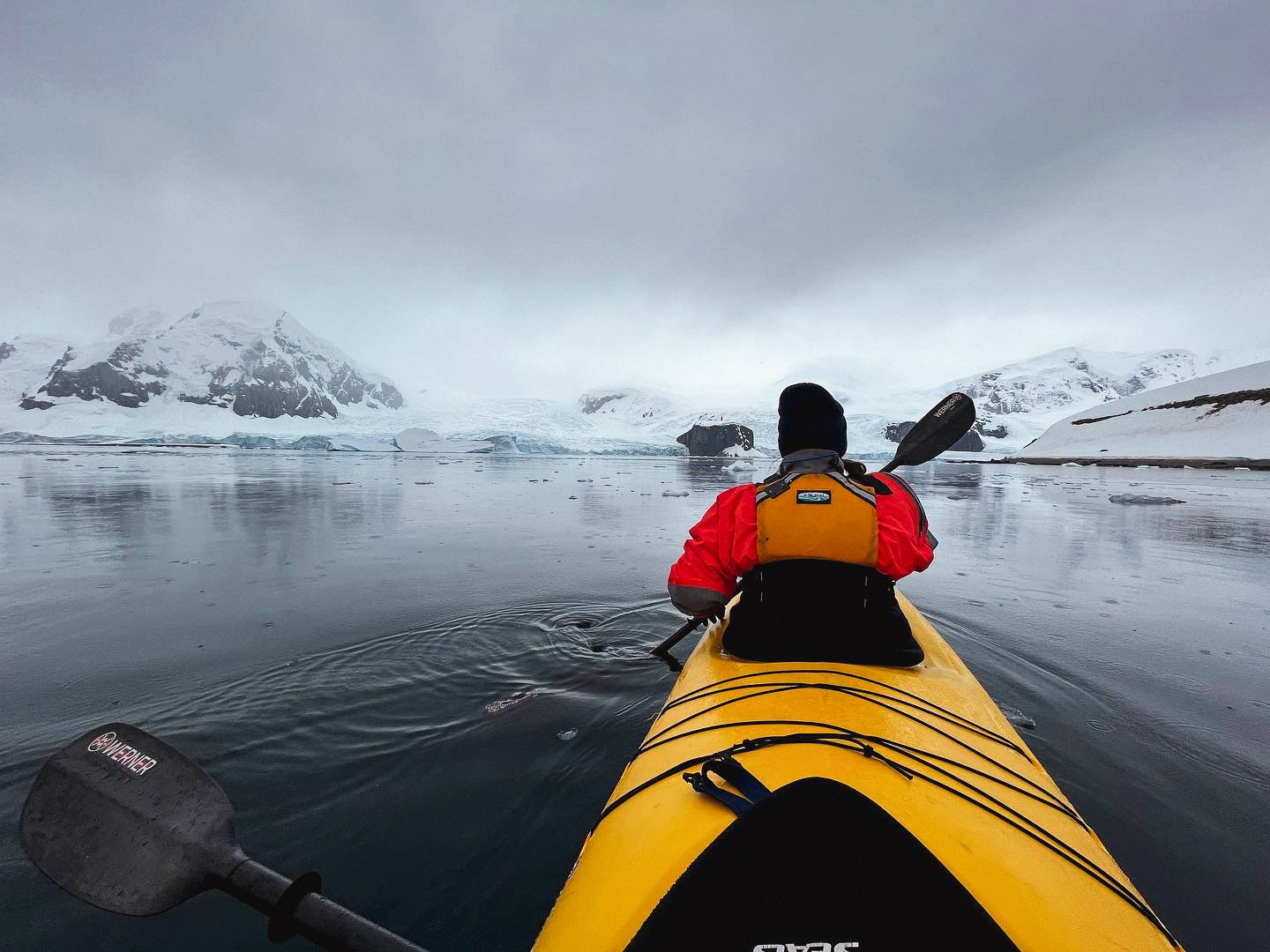 After a quick stop the next morning in Chiriguano Bay to sea kayak amongst the brash ice, and paddle within a few meters of Leopard and Weddell seals, we climbed back aboard the ship and made our way to Danco Island.
That afternoon the world around us truly came alive, we navigated our sea kayak amongst tower icebergs and glaciers as they cracked and calved into the sea, the water was alive with Gentoo Penguins as they waddled from their nests and into the water in search of an afternoon snack observed by the Weddell seals taking a siesta on nearby icebergs.
After paddling almost 4.5km around the Danco Island, we came ashore for our first landing. The island is home to a population of 2,000 Gentoo Penguins. While on land adult penguins in Antarctica have no natural predators. So, they were naturally curious as to who we were. While you had to maintain a 5m distance from them, the penguins occasionally did not get this memo and would sometimes approach us as we stood and watched them waddle up and down their penguin hwys (paths they had walked into the snow).
After an epic visit to Danco Island we spent the following day in Patagonia & Lapeyrere Bays. We wasted no time here in taking to the sea kayaks and enjoyed our day following humpback whales, as they played hide and seek amongst the brash ice (we even had one pop up within 10ft of the kayak!). We wrapped up our day with a Polar Plunge, which in Antarctica is a right of passage. Leaping from the ships back platform into the 0 degree seas was something I will not soon forget (or warm up from, haha).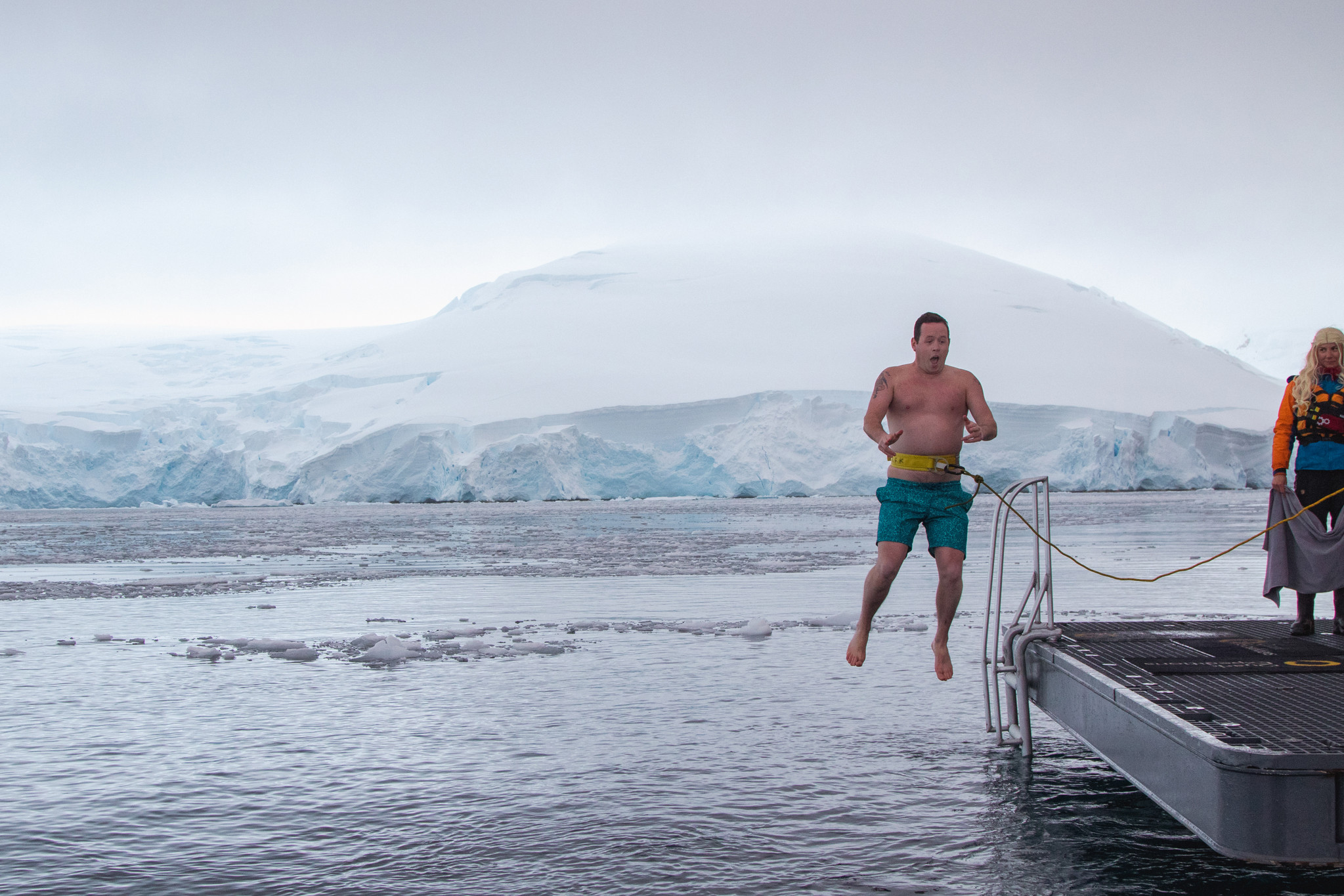 Jan 25th was by far the most memorable day on our trip to Antarctica. We started our morning exploring Cape Tuxen at the mouth of Waddington Bay in our kayaks. Surrounded by tower peaks, calving glaciers and host to a variety of seals and penguins. This place was something straight out of a National Geographic magazine.  Cape Tuxon also marked a first. As we got to paddle our way to our first continental landing (for the purists out there we got to physically stand on the continent of Antarctica not a surrounding island).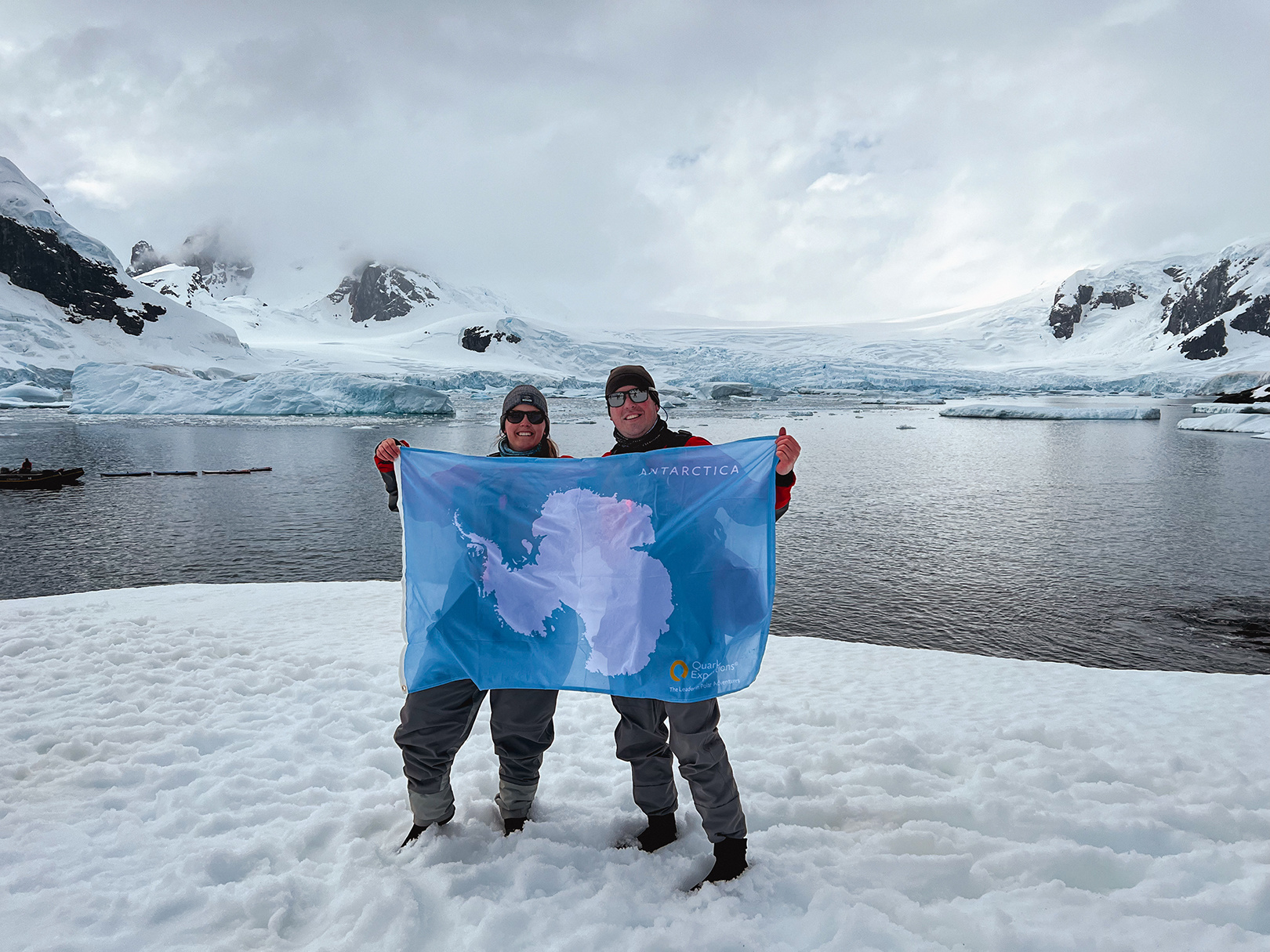 We followed our first continental landing up with a visit to Yalours Island. Home to 5,000 Adélie Penguins. We spent our time on the island walking amongst the colony, watching as penguins tobogganed on the snow (slide on their stomachs) between rocky outcrops. We were also fortunate enough to see our first Adele Chicks. Small, fluffy, and grey, still nestled up to their parents not yet gone through the process of molting and attaining their waterproof feathers so that they too could take to the sea.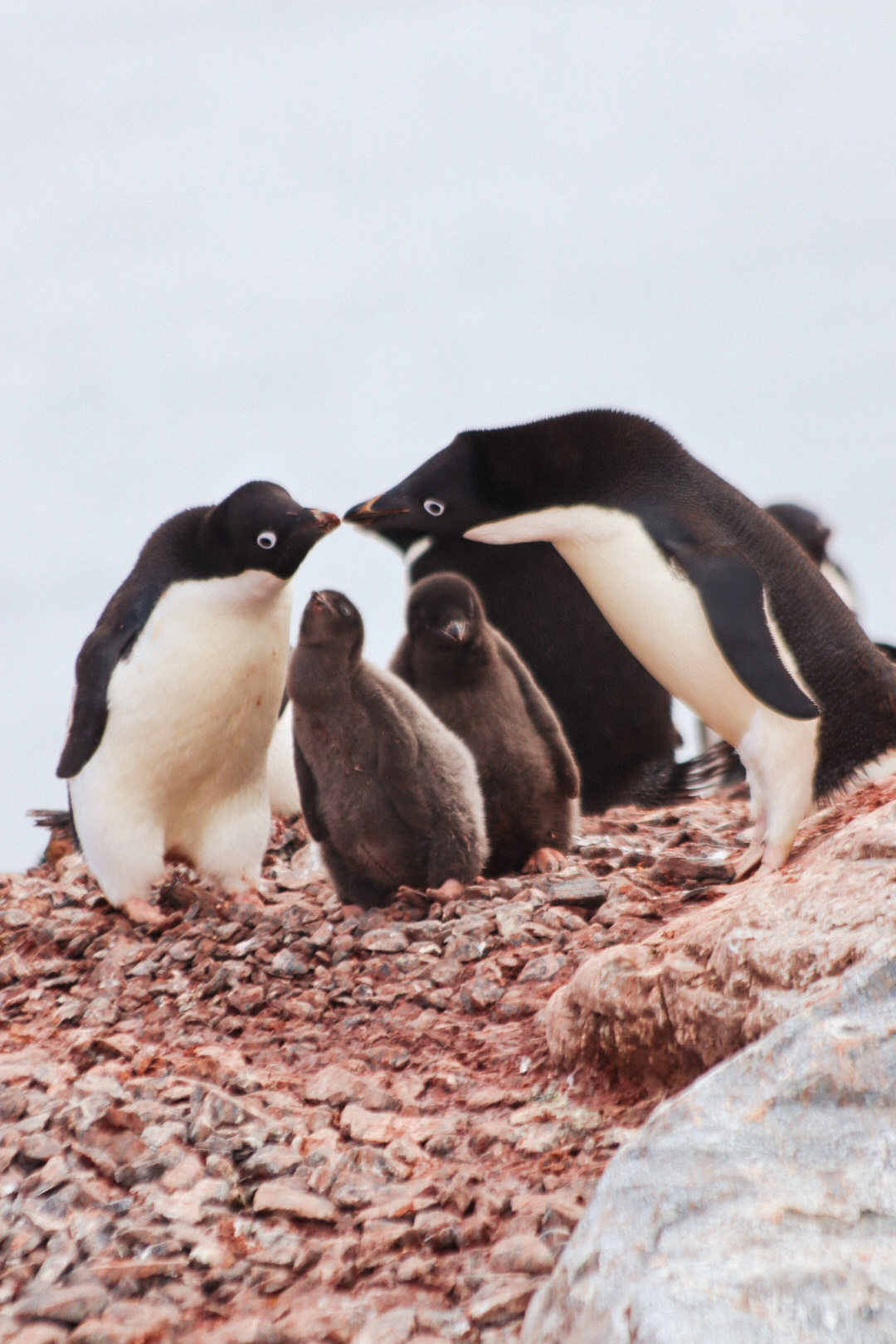 On route back from the colony, we found ourselves surrounded by a group of 5 humpback whales as they searched for their dinner of krill and curiously observed us. We spent an hour watching as they would surface (sometimes within 5ft of us) blow out a big breath and then tip over and glide back into the water, waving with their tails as they dipped back below the surface.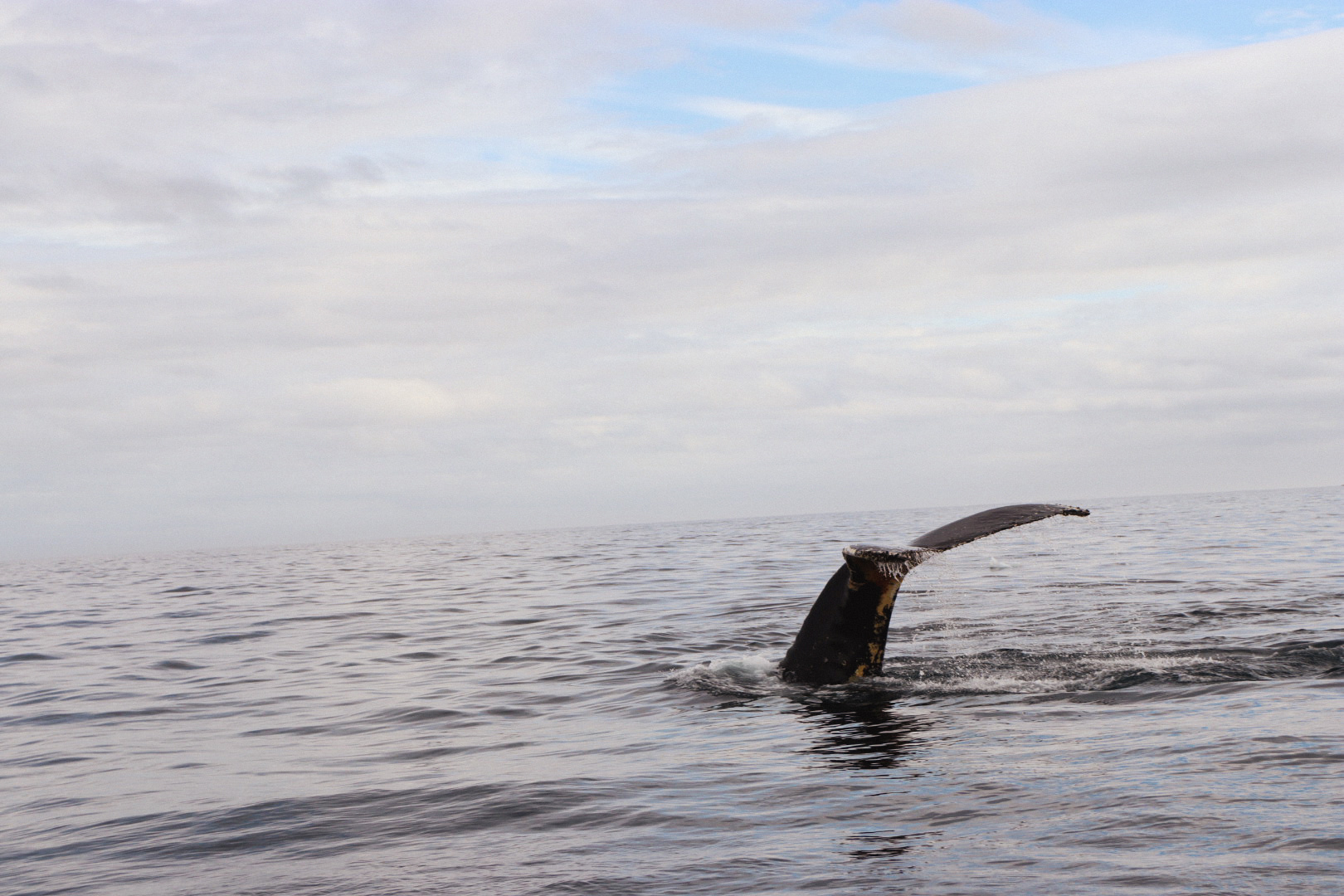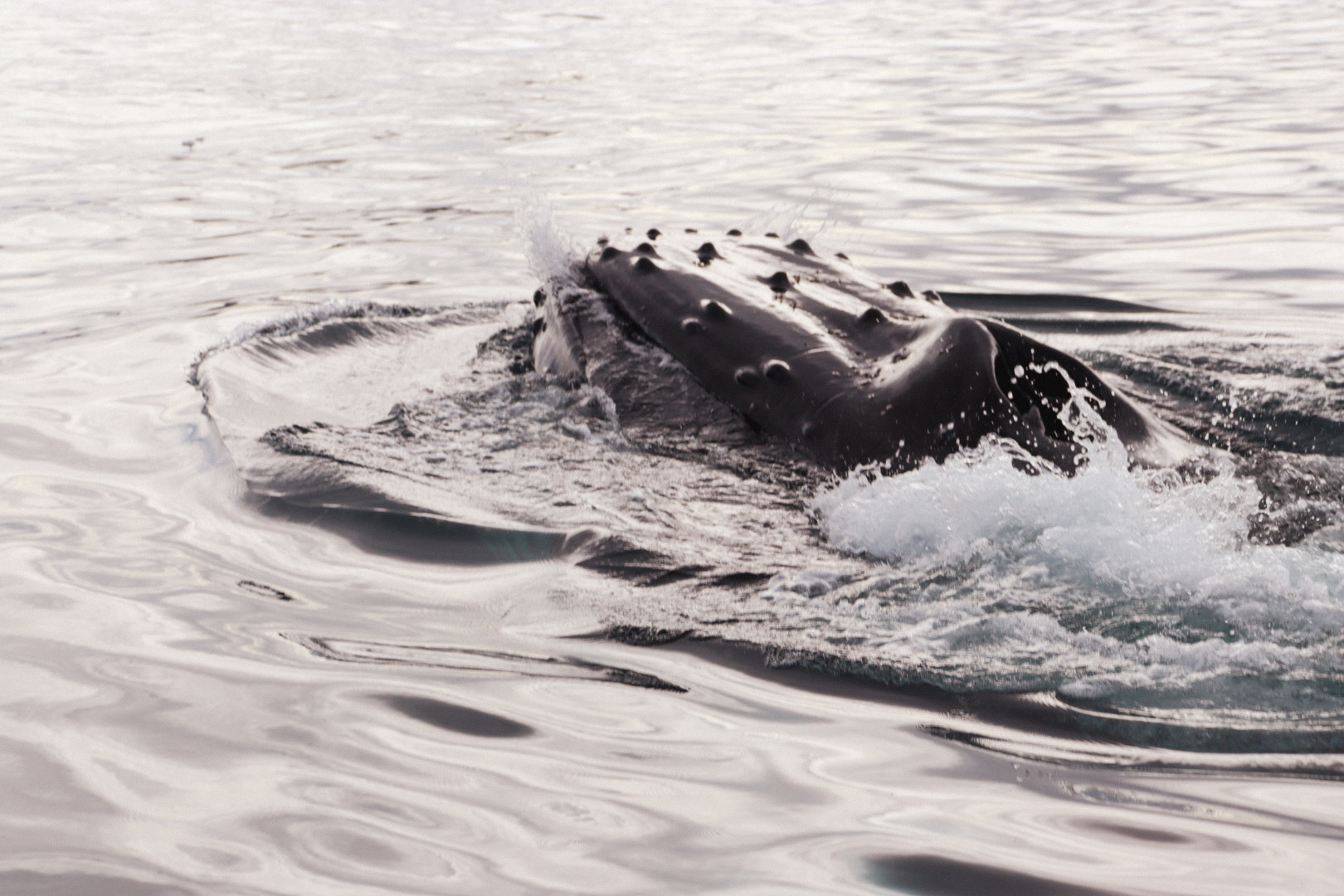 We ended our best day with a bucket list item! With a balmy evening temperature of -4 degrees and a sun that never set, we headed ashore to Hovgaard Island, where we got to spend the night camping out in our bivy sacks. The experience was surreal, as we lay in the snow, with seals a mere 300ft away, penguins on the next island over and no sound… I mean literally no sound. It was almost deafening, yet incredibly peaceful.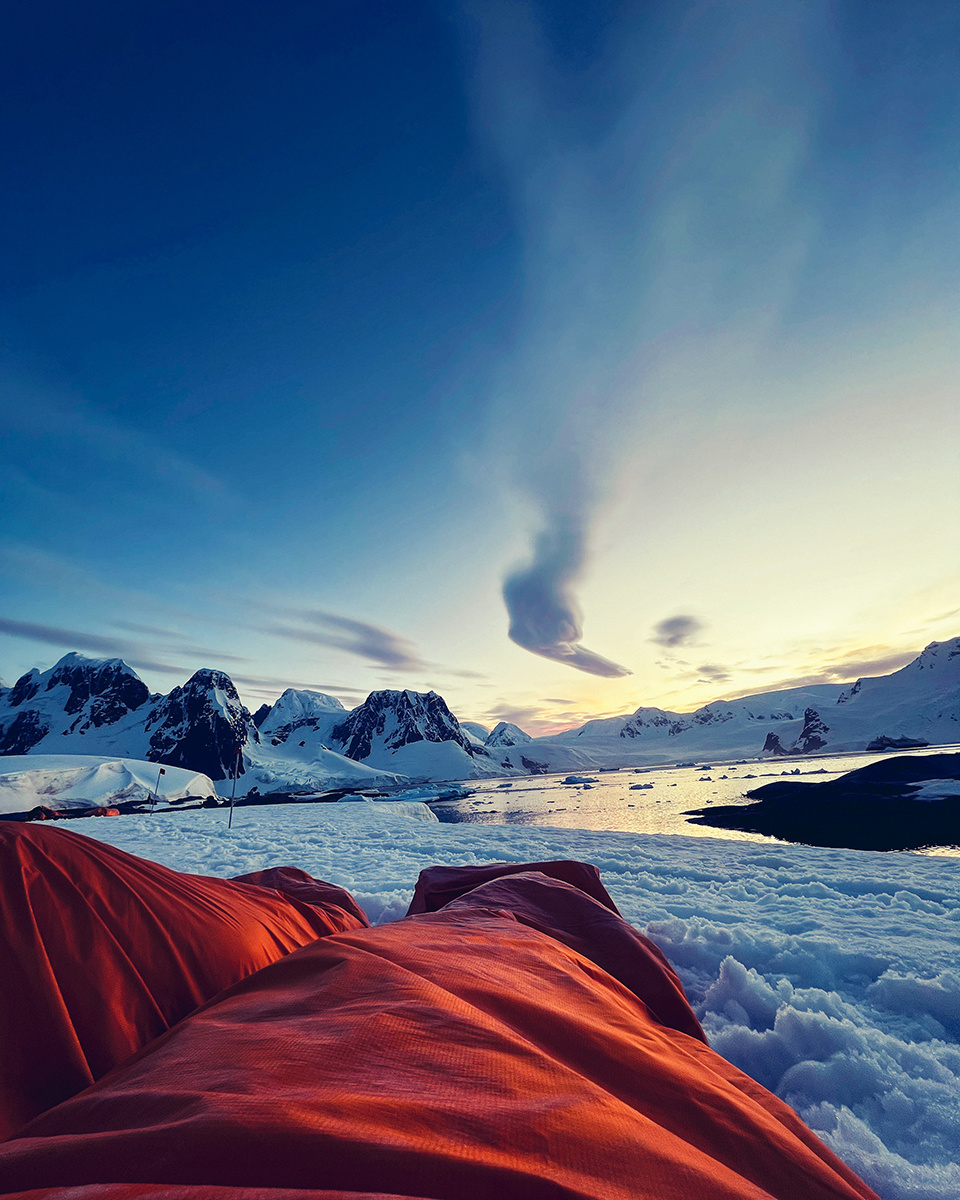 Our final day before heading back north and into the Drake Passage, was spent at Portal Point. This was our second continental landing, after exploring the point in our sea kayaks, observing humpback and sea birds, we headed ashore. We climbed to the top of the point and just stood in silence taking in the raw beauty of our surroundings and enjoying one last day in this surreal place.
FINAL THOUGHTS:
While I don't know that I can ever truly articulate the raw beauty and emotion this place evoked within me, I leave you with one of my favourite quotes from polar explorer Fridjof Nansen – "Most people might be oppressed by such surroundings, with it's silence and inhumane expanses. But he who seeks peace and quiet in nature, undisturbed by human activity will find here what he seeks. Even though beset in the ice, one is a plaything of the forces of nature."
For more information about exploring Antarctica with Quark Expeditions you can check out their website at www.quarkexpeditions.com
GEAR LIST:
BASE LAYER – Smartwool 250 weight Bottoms & Crew. Neck or zip neck top – merino wool dries quickly, keeps you warm if it gets wet and doesn't smell after long periods of use


SOCKS – Smartwool Mid weight merino wool ski sock – Provides wicking capability, keeps you warm when wet, dries quickly and is very durable – Also with the ski sock height it offers more warmth and coverage further up the leg. Anytime we had a Zodiak trip we had to wear a knee-high rubber boot so this made things way more comfortable


MID-LAYER – Arc'teryx Proton Hoody – Synthetic insulated jacket – breathable, warm, durable, keeps you comfortable even when wet and dries quickly – layers well under and outer shell


MID-LAYER BOTTOM – Arc'teryx Gamma Lt softshell pant – Tonnes of 4 way stretch – light fleece backer on the inside for extra warmth durable and great to hike in


OUTER LAYER BOTTOMS – Arc'teryx Beta Pant – Full Goretex waterproof pant with full side zip so easy to take on and off, elastic waist with draw cord and reinforced instep


OUTER LAYER JACKET – All expedition companies in Antarctica require you wear one of their waterproof parkas – easier to spot and identify you on land – However the vast majority of the guides wore a version of the Arc'teryx Alpha SV – 100% Gore-Tex waterproof durable thick face fabric, loaded with pockets for storage and a large helmet compatible hood to fit over just about anything


PACK: Arc'teryx 30L Alpha FL Pack – With AC2 technology, taped seams and a roll top this bag is highly water resistant. It not only protected any extras I needed but also ensured my camera and lenses stayed dry


Hydro Flask 32oz wide mouth bottle with straw lid – I never leave home without it! Keeps my water cold for hours on end and it kept my tea hot even on our cold days
RECOMMENDED READING LIST if you are interested in Antarctic exploration:
Endurance
The Last place on Earth: Scott and Amundsen's Race to the South Pole
Scotts Last Expedition
Or check out Scott Polar Research Institute