We are excited to announce our 2023 Fishing Ambassador - Carter Natale. We sat down with Carter and asked him questions about what got him into fishing, his charter business and his go-to gear.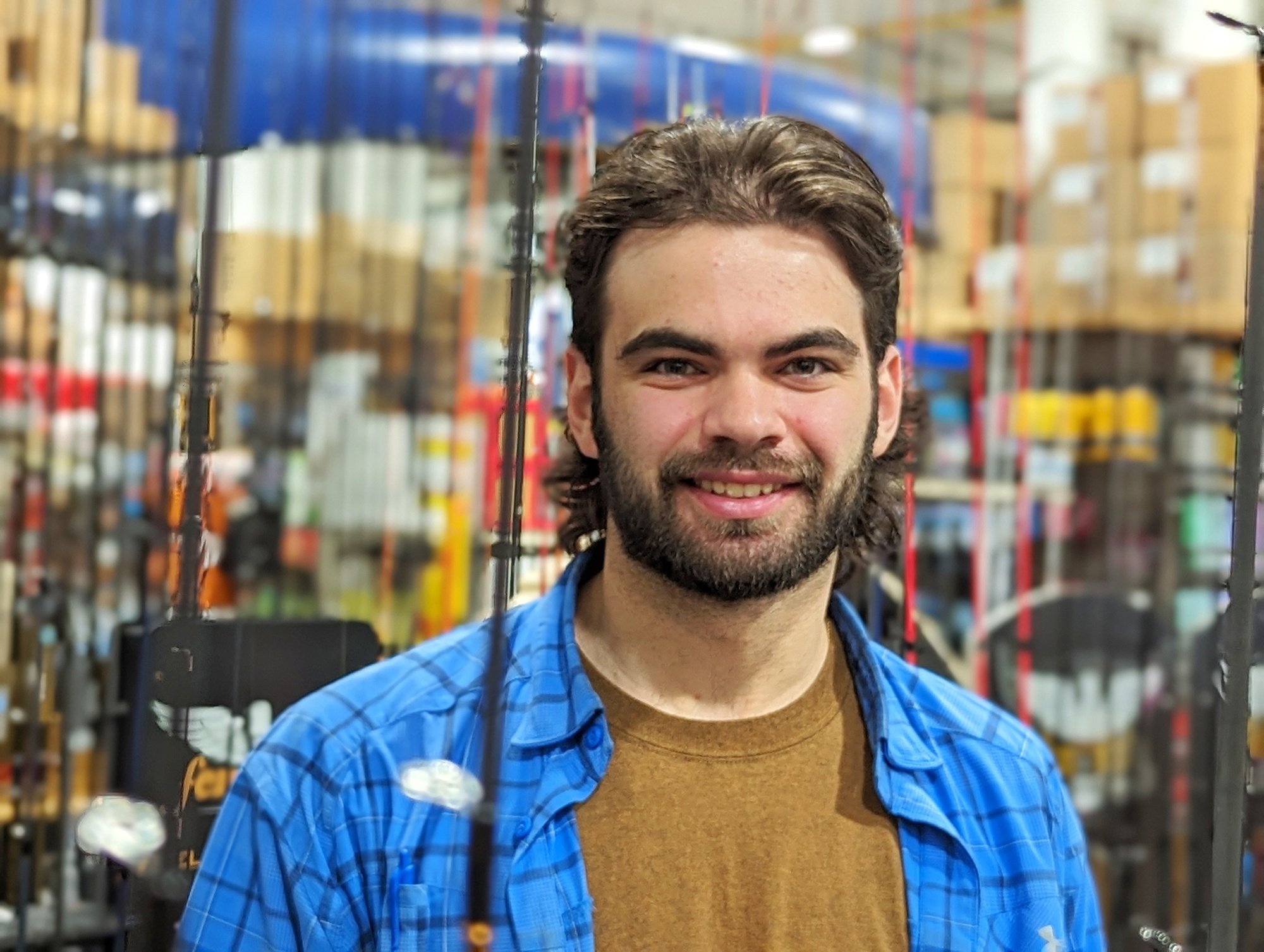 How long have you been fishing?
I started fishing when I was 3 years old. My Dad got me into it by taking me down to Kusk Lake on Panache Lake Rd.  Fishing under the bridge. That is where it all started for me.
What kind of fishing do you enjoy the most?
Right now, my favourite species to target would be Muskie. Which is also what I guide for. I found a big passion for it when I was 16 and have been loving it ever since.
What was the best day ever on the water? Is there a day that you will never forget?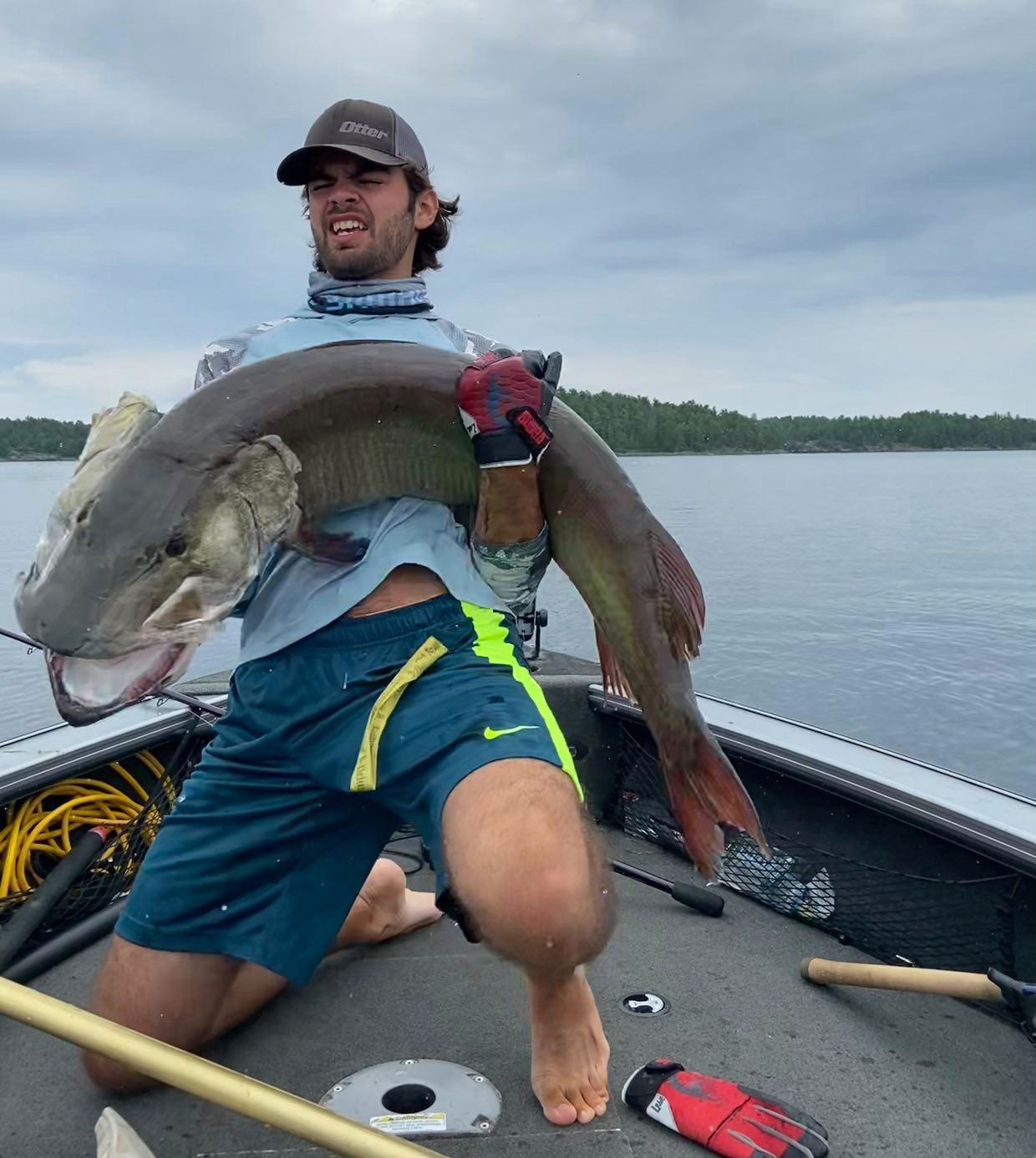 Catching my personal best, a 58.5" muskie. Which is a fish of a lifetime, and now I am looking to beat that. Hopefully sometime soon.
What are you doing when you are not fishing?
When I am not fishing, I am probably stocking up on fishing gear or maybe hanging out with friends or going to the gym. Something like that.
Why did you start a Charter business?
It is something that I always wanted to do, since I was very young. I was lucky enough that my Dad took me out on a lot of fishing trips when I was younger. I thought it would be an awesome job, so right out of high school, I knew that was what I wanted to do. So here I am.
How to book a charter? And what can someone expect?
You can come see me at the store. I am full-time in the fishing department during the winter months, or every Wednesday during the summer. I have business cards, or I have my Instagram account that you can message me on.
Typically, who hires you?

I get a little bit of everything. I get families, I get experienced fishermen, I get solo rookies. I wouldn't say just one specific one. I would say I get a lot of families because I work out of the Totem Point Lodge out on the French River at Wolseley Bay.


Is there such a thing as bad weather?
I would say thunderstorms. That would be the only thing that would keep me from going out.
Favourite piece of water and species to fish for?
I am on Wolseley Bay. It is between Alban and Noelville on the French River. It is about 50 minutes from Sudbury. My favourite species is Muskie and walleye would be a close second.
What is your best Charter fishing story?
Probably a 6 year-old that got a 48 inch pike and seeing the smile on his face. That is probably my favourite story.
[Taller than the kid.] Pretty close. Pretty close.
If someone BOOKS a CHARTER WITH CARTER what can they expect? What does that day look like?
If someone books a Charter with Carter, they can choose what species they would like to fish for, whether it be muskie or walleye, bass, pike, or multiple species in a day. And you would be coming out with me on my boat, which would be a 20 ft Lund and you would be able to use all my gear and tackle. And just get the full experience basically, learn a lot of things, and hopefully catch a big fish.
In July, what is biting? (Watch our social channels for your chance to WIN a day on the water with Carter in July)
There is a really hot walleye bite, and normally the muskie fishing is pretty good, but varies from year to year but usually walleye fishing is stellar that time of year.
What is your go-to gear?
SIMMS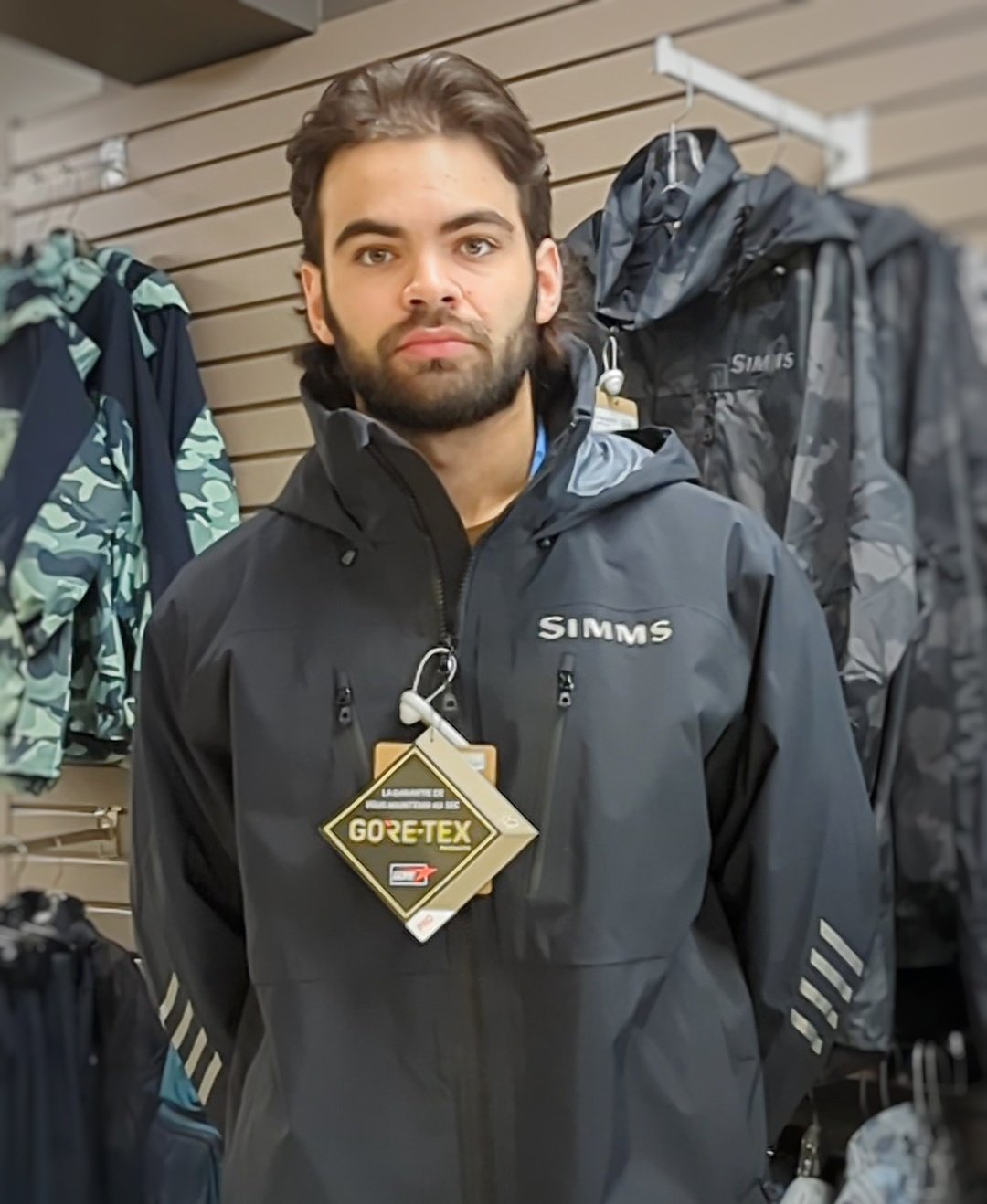 I like SIMMS suits because they are very lightweight. They have lots of pockets – on the chest, and the lower part of the jacket. They have elasticized cuffs to keep your sleeves away from you when you are fishing. The hoods are also elasticized to stay on your head while you are driving which is also great. All their jackets are waterproof, and some offer Goretex which is a fantastic material – very waterproof and is also breathable. So, if you are summer fishing it is fantastic for that.
SHIMANO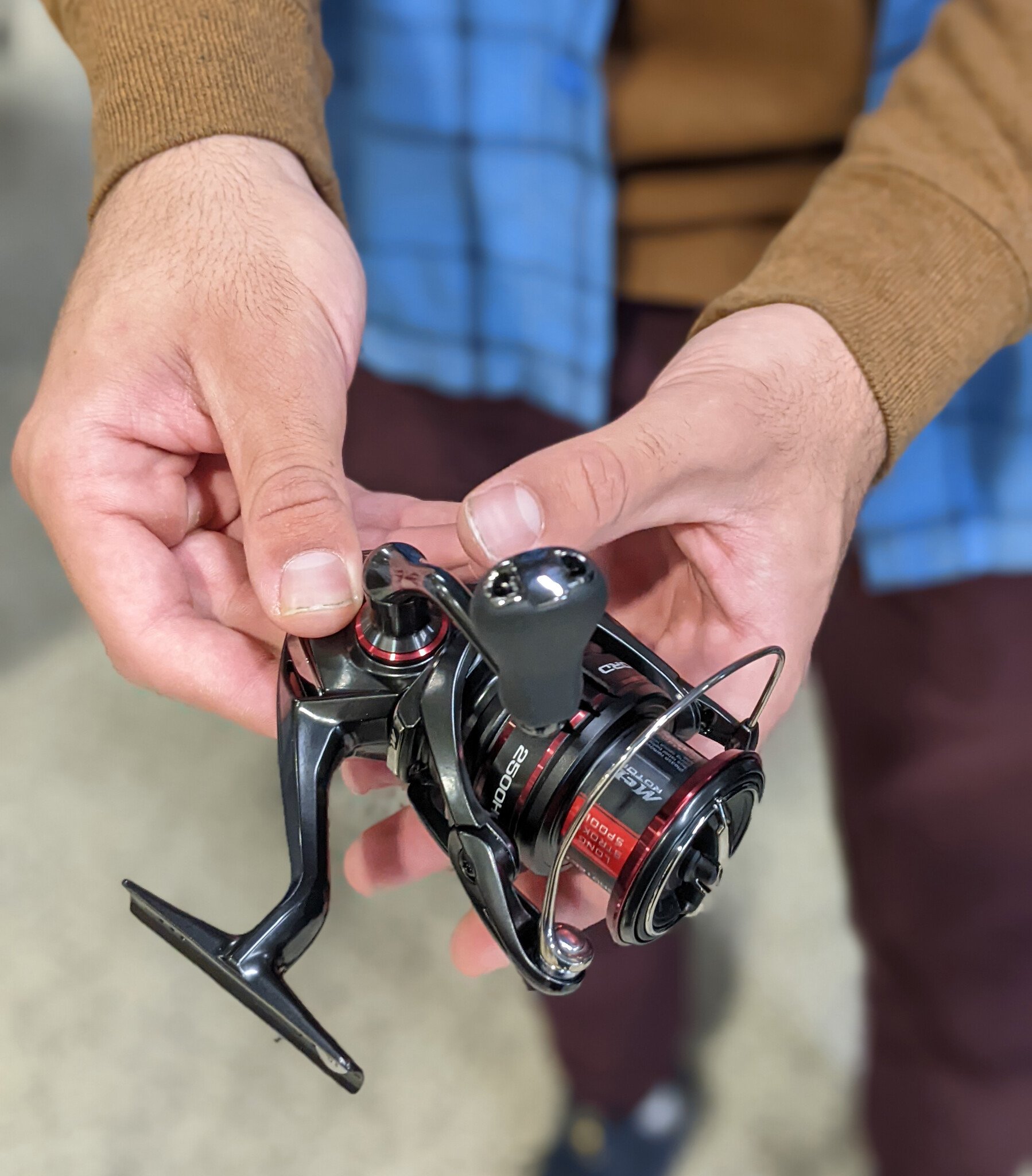 This is the Shimano VanFord. This would be my favourite reel on the market. It comes in at $365.  It has 7 ball bearing system and a roller bearing all anti-corrosion bearings. It is a full carbon body which is really lightweight and has a cross carbon drag which is also fantastic.  I own about 3 or 4 of these and I haven't had them fail at all and I use them for all kinds of species. It is a phenomenal reel.
HUMMINBIRD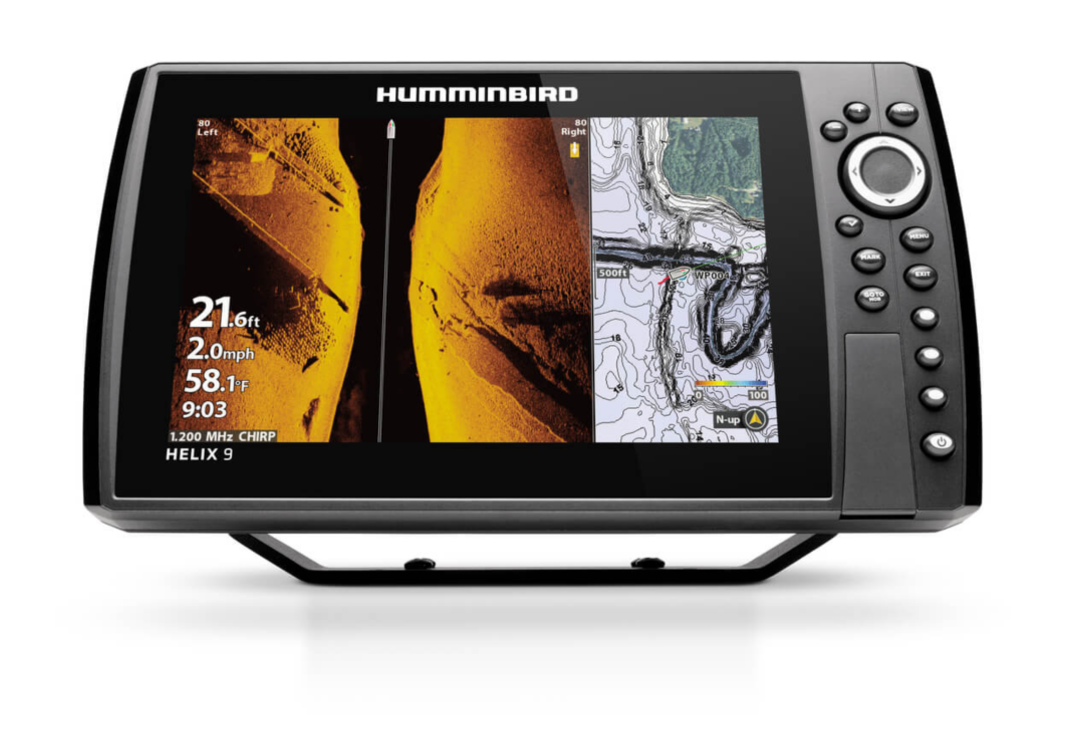 This is the Helix 9, a Humminbird product – similar to what I have on the boat. It has MEGA Side Imaging + which is an industry leading side imaging. A phenomenal tool for casting for muskies and trolling for muskies, which is why I run Humminbird on my boat at the console. So, when I am casting and trolling, It is a great tool to use to find structure and to see fish. It is like having eyes out to the side of the boat. It is awesome.
GARMIN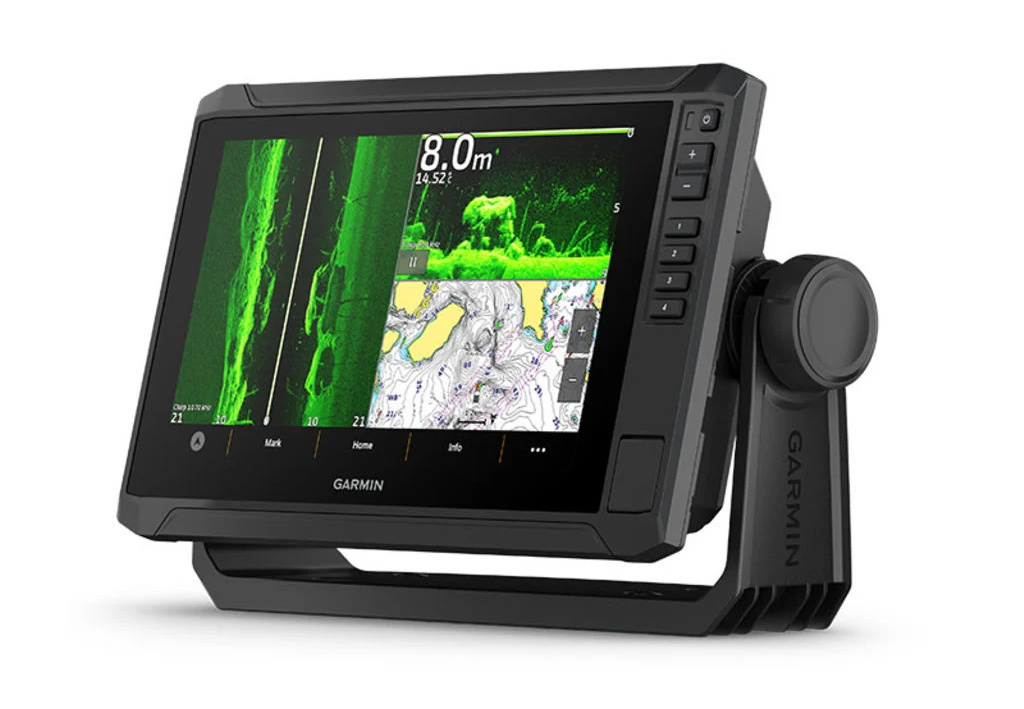 I also have the Echomap 95 SV with the Garmin Livescope.  The Livescope is a relatively new technology. It is live imaging that allows you to see the front of the boat and below the boat in real time. It is a great tool for vertical jigging or casting.  You can see whatever lure you are using coming in and see the size of fish and distance away they are from your lure. It is really good for small species that school up and you can locate them a lot faster.  I have it installed at the front and is a phenomenal tool for walleye fishing.
LURES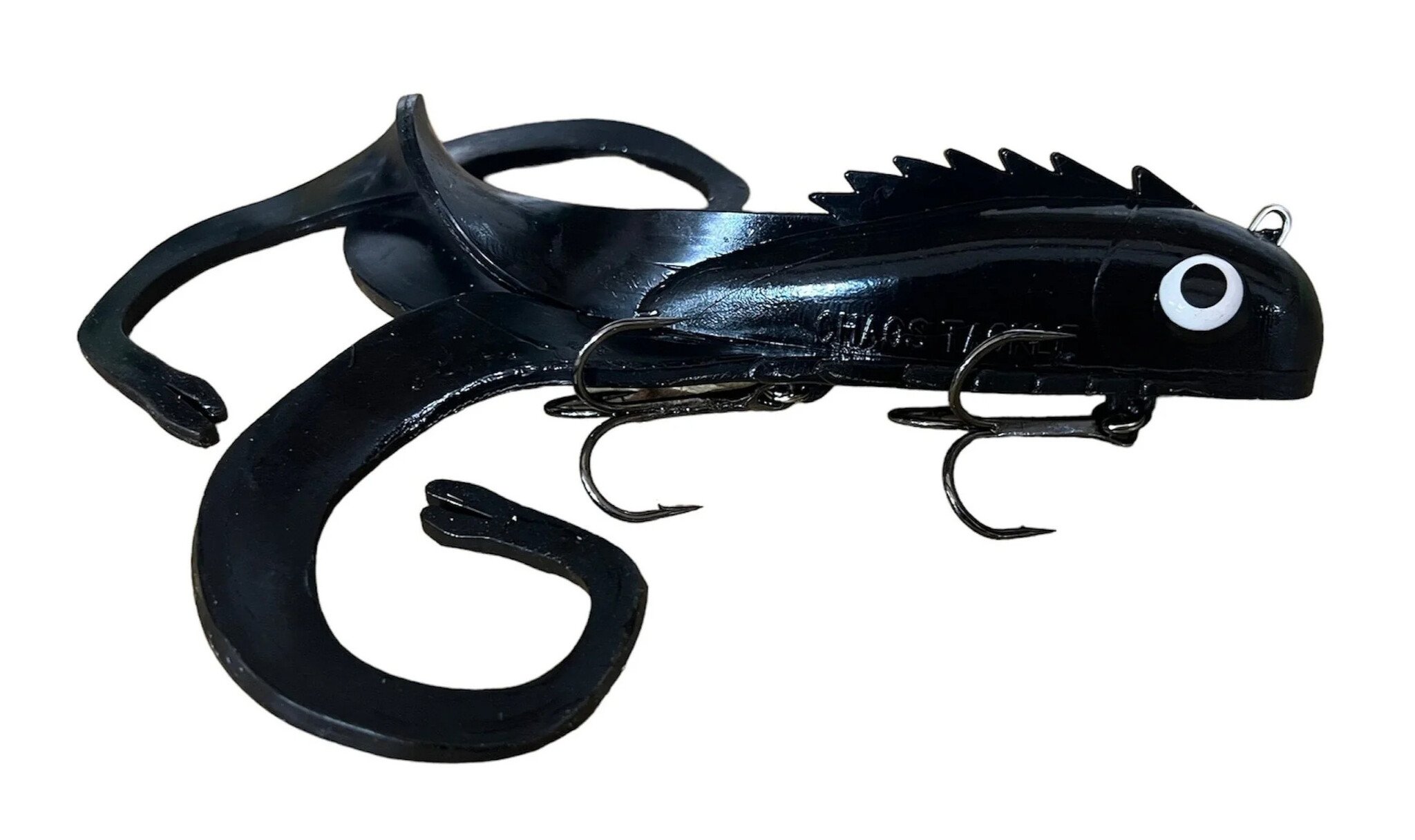 The Chaos Tackle Husky Medussa is one of my favourite musky lures. A great fall bait for Musky. I use these all the time and caught a ton of muskies on this. You can use them in deep or shallow water aggressively. Great product and relatively well priced as well.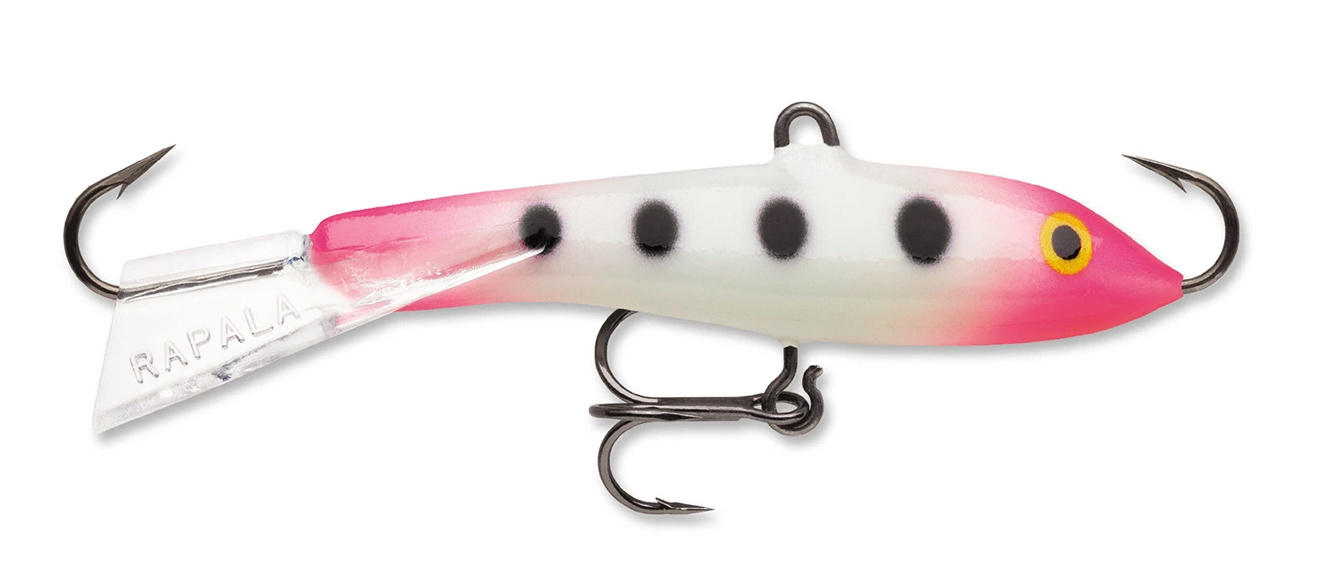 This is the Rapala Jigging Rap. This is a custom colour - Pink Glow. These are great baits – I have actually caught my personal best walleye using this lure. That was 14.2lbs. Caught in Wolseley Bay as well.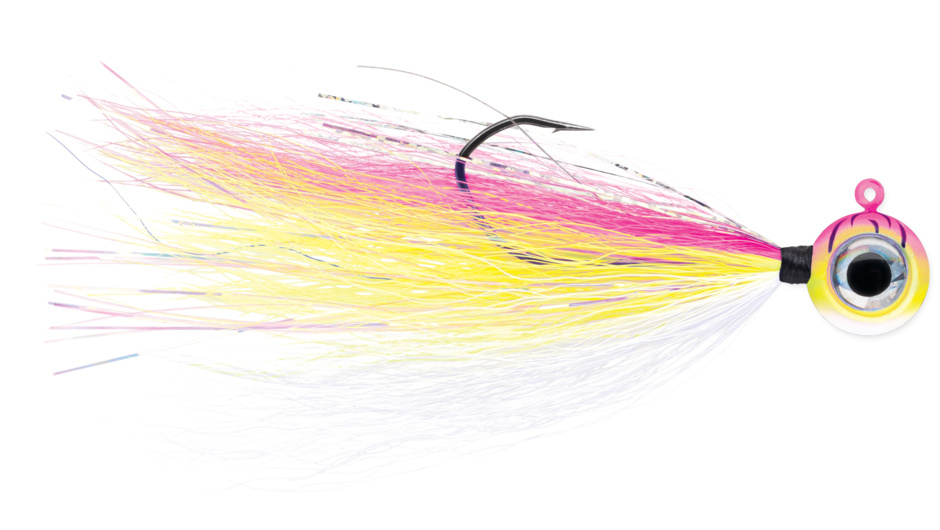 This one is the VMC Moontail Jig. They are relatively new. They came out around a year and a half ago.  I started to use these last spring-summer for Walleye around weed beds. These work phenomenal as well.
Thanks Carter, for taking the time to sit down with us to chat about fishing.