What started many years ago as an essential mode of winter transportation has evolved into a recreational activity of today. If you have never gone snowshoeing before, you may ask, why?


It is great exercise. Snowshoeing is a low impact aerobic exercise. It also enables you to extend your hiking season onto trails that are not easily accessible in winter.


It is (relatively) inexpensive. Outside of the need for snowshoes and appropriate winter apparel, there are NO expensive lift-ticket prices and resort fees.


It is social. This is a great activity for all ages and ability levels. Go solo or with a group of friends.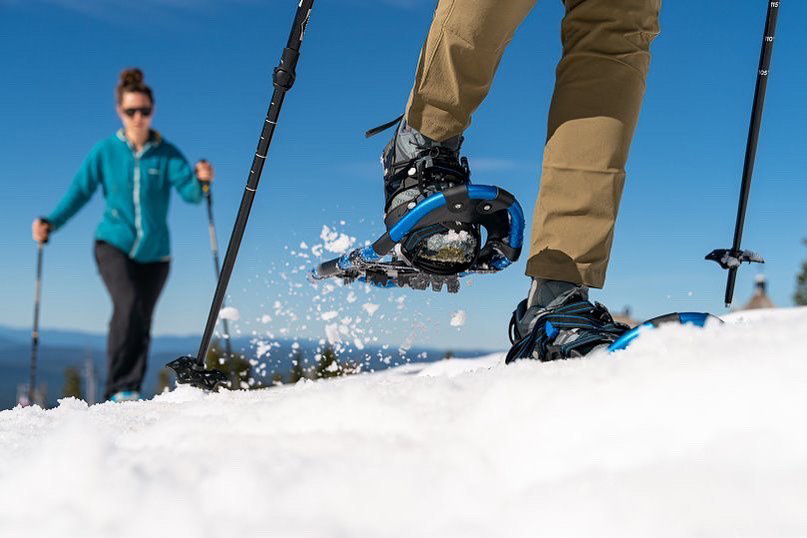 BASICS Needed for Snowshoeing:
Snowshoes that suit your weight, the terrain and the snow conditions

Insulated, waterproof winter boots.

Wool socks that wick away sweat are a must. PLUS, carry an extra pair in case yours get soaked. (You wouldn't be the first person to land in a creek!)

Dress in layers so you can remove or add a layer to suit the activity level, or weather conditions.

Sunglasses will protect you from snow blindness as UV rays are more intense when reflecting off snow.

You may also find that you prefer snowshoeing with poles to help keep your balance on uneven or hilly terrain. (Plus, they help give you an upper-body workout!)

It is important to drink water while snowshoeing, the same as you would hiking in the summer. It not only keeps your muscles functioning but can also help fend off hypothermia, in an emergency situation. Using a double-walled bottle will keep your water from freezing or keep your hot drinks hot!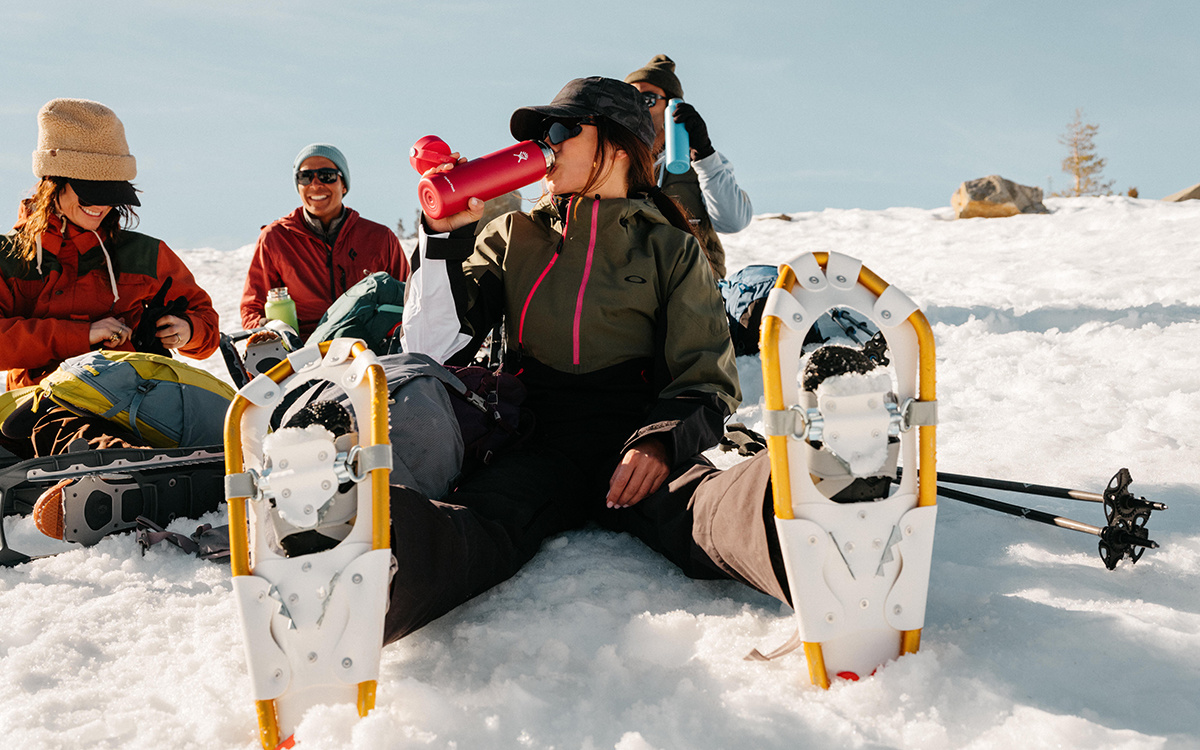 Tips for Beginners:
Start small. Snowshoeing can be tough work. Not only do you have extra weight on your feet, but breaking your own trail in fresh snow will get your heart pumping. Starting out close to home means you can get a feel for the activity and what intensity is best for you.


Be social.  Not only is it fun to be with a friend, but always great to have a companion for safety reasons. Having a friend also means you can alternate who is breaking the trail to give each other a break. It is harder work than you would think.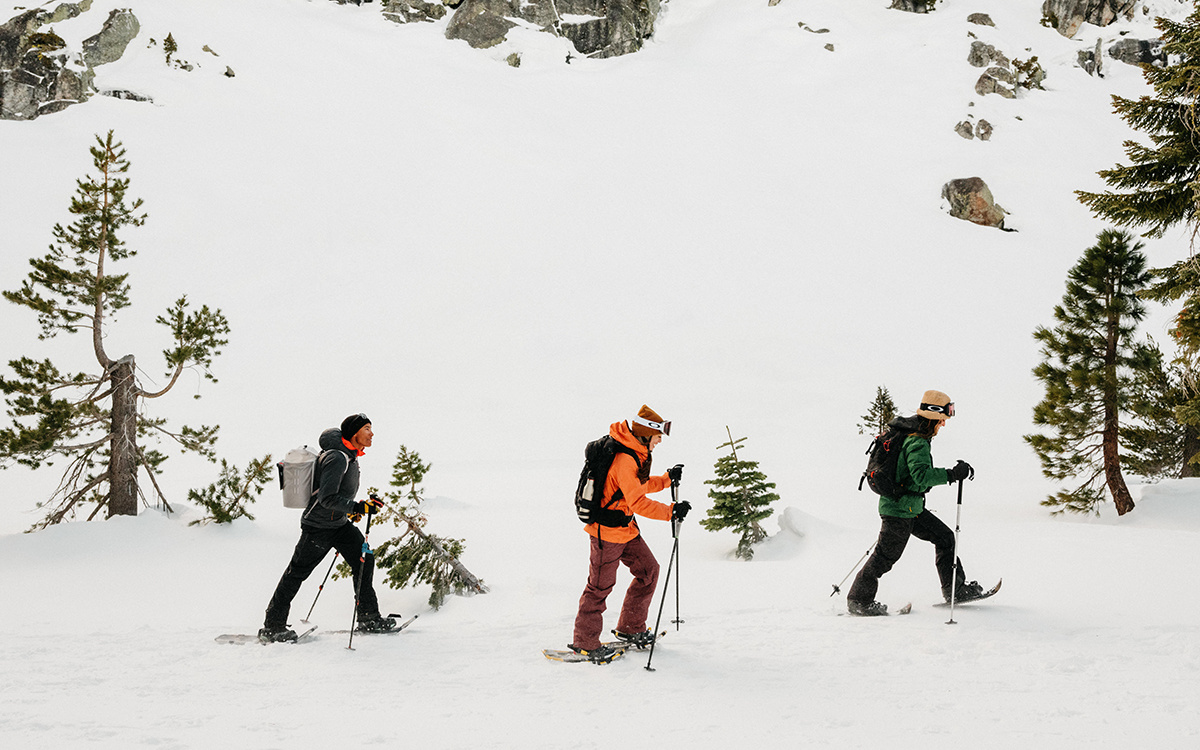 Always carry the 10 Essentials + 1:
1. Navigation Tools (Map, Compass, GPS)
2. First Aid Kit (including foot care and possibly even foot warmers)
3. Multi-tool (with knife blade)
4. Headlamp (with extra batteries)
5. Sun Protection (Sunglasses, sunscreen)
6. Fire Starter (tinder, matches – all stored in a waterproof container)
7. Shelter (Emergency blanket or Bivy)
8. Extra Water
9. Extra Snacks (Protein Bars don't take up much room)
10. Extra Clothes – especially warm socks and hat
PLUS, A repair kit that includes duct tape and zip ties for fixing poles and snowshoes can make the difference between getting back to the trailhead or an emergency situation.
Practice good snowshoeing etiquette:
Do NOT step on ski tracks on trails. On trails with ski tracks, walk single file on the outer edge of the trail. It is easier and safer for snowshoers to side-step than it is for a cross-country skier to do the same.
For safety reasons, avoid snowmobile trails.
As a beginner, stick with established and marked trails. If you plan to break trail on your own, carry navigation tools and leave behind a trip plan.
Where to snowshoe locally?
Lake Laurentian Loop - Check out Conservation Sudbury for Trail Maps
A.Y. Jackson Lookout Trail
Kivi Park - https://kivipark.com/
Check out ALLTRAILS.com for a full listing: https://www.alltrails.com/canada/ontario/greater-sudbury/snowshoeing